Crowley Adding More than 3,000 Pieces of Equipment to Fleet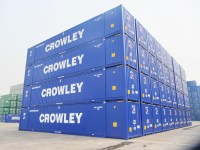 Resources to Serve Growing Demands of Customers throughout Puerto Rico, the Caribbean and Latin America
(JACKSONVILLE, Fla.; May 21, 2013) – Crowley Maritime Corporation's liner services group  is  adding more than 3,000 pieces of cargo handling equipment to its robust and diverse fleet. The additional resources will allow the company to better meet increasing customer demand throughout Puerto Rico, the Caribbean and Latin America service areas.
The equipment  includes 200 53-foot (102-inch wide) dry containers, 200 45-foot (102-inch wide) dry containers, 500 20-foot dry containers, 1,000 40-foot dry high-cube containers, 337 40-foot refrigerated high-cube containers, 30 20-foot refrigerated containers, 461 underslung gensets and 75 nosemount  gensets.
The new equipment, which will replace some aging units and allow for growth, brings Crowley's equipment totals to nearly 43,000 containers, chassis and other specialized units.
"These acquisitions reflect our continued commitment to reinvest in the business for the benefit of our customers," said Steve Collar, Crowley senior vice president and general manager, Latin America liner services. "And it further aligns with our strategy and desire to have the most modern and most desired type of equipment available when and where our customers need it."
"We are particularly pleased to be able to add to our supply of high-capacity  53-foot containers, which are in great demand in our Puerto Rico liner services," said John Hourihan, Crowley senior vice president and general manager, Puerto Rico/Caribbean. "These units  have a capacity up to 3,268 cubic feet and the  capability to carry loads up to 42,660 pounds."
In addition to meeting ISO standards for freight container door security applications, Crowley's  new containers, which are expected to arrive in Jacksonville this summer, have an extra bolt-type seal lock and 3/8'-thick plating at the top and bottom for maximum security, helping to prevent unlawful access.
Since 2003, Crowley has invested more than $275 million to upgrade and grow its equipment fleet.  Jacksonville-based Crowley Holdings Inc., a holding company of the 121-year-old Crowley Maritime Corporation, is a privately held family and employee-owned company. The company provides project solutions, transportation and logistics services in domestic and international markets by means of six operating lines of business: Puerto Rico/Caribbean Liner Services, Latin America Liner Services, Logistics Services, Petroleum Services, Marine Services and Technical Services. Offered within these operating lines of business are: liner container shipping, logistics, contract towing and transportation; ship assist and escort; energy support; salvage and emergency response through its TITAN Salvage subsidiary; vessel management; vessel construction and naval architecture through its Jensen Maritime subsidiary; government services, and petroleum and chemical transportation, distribution and sales. Additional information about Crowley, its subsidiaries and business units may be found on the Internet at www.crowley.com. 
#     #     #