Crowley Acquires International Ship Management Company – Accord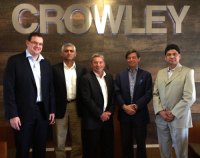 Crowley Maritime Corporation announced today that it has acquired majority ownership of Accord Ship Management (HK) Limited and Accord Marine Management Pvt. Ltd. The Accord acquisition will be managed by Crowley's ship management group, which provides all phases of commercial ship management along with full technical management and government contracting. It will immediately increase the size and scope of Crowley's technical ship management group while supporting the company's expansion into the international ship management market with a foreign crewing presence. The acquisition also makes Crowley a rare U.S. company – one that provides third-party international crewing and technical ship management.
With offices in Hong Kong, India (Mumbai and Goa), and the Netherlands, Accord currently manages 23 vessels. The company employs 55 people who work collaboratively to realize the company's vision of being a globally competitive shipping company, offering cost effective management solutions with a commitment to customer satisfaction. 
"When investigating international ship management companies that would allow Crowley to expand our business and create a greater presence outside of the U.S., we were careful to only pursue companies that share Crowley's corporate values and culture, especially as they relate to safety," said Mike Golonka, vice president, ship management. "After several visits to observe their culture and operations, we are convinced that Accord is the right fit to complement Crowley's existing operations. Accord has built a team that allows access to trained, qualified mariners without the additional expense of third-party crewing companies, something potential customers are demanding."
Accord's Managing Director, Sanjay Shesh, said, "Crowley stepping into the management of Accord is a great step forward for Accord. The spotless image and pure charisma of Crowley will propel Accord to a higher plane where economical solutions will be available to our existing and new clients with greater brand value and higher standards of committed service." 
Accord provides Crowley with both an immediate international book of business and an established and respected entry into the international ship management market. The company also offers Crowley the opportunity to provide additional and more regionalized support to its worldwide operations, including its solutions, liner, logistics, petroleum services, and Titan Salvage groups. This acquisition will result in a combined fleet of over 60 vessels managed for third-party owners.
Crowley's solutions group encompasses commercial ship management along with several of the company's other essential business functions: project management for the energy and resource extraction industries; marine salvage, wreck removal and emergency response; heavy lift barge transportation; ocean towing; marine engineering, naval architecture and construction management; remote fuel management; project concept study development; and government services. With main offices, equipment depots, and vessel homeports in Jacksonville, Fla.; Houston; Seattle; and New Orleans supplemented by those the company has internationally, Crowley is positioned to quickly respond to variety of maritime projects around the globe, efficiently and, most importantly, safely. To learn more about Crowley's ship management or solutions group, please visit:www.crowley.com/shipmanagement or www.crowley.com/solutions.
Jacksonville-based Crowley Holdings Inc., a holding company of the 121-year-old Crowley Maritime Corporation, is a privately held family and employee-owned company. The company provides project solutions, transportation and logistics services in domestic and international markets by means of six operating lines of business: Puerto Rico/Caribbean Liner Services, Latin America Liner Services, Logistics Services, Petroleum Services, Marine Services and Technical Services. Offered within these operating lines of business are: liner container shipping, logistics, contract towing and transportation; ship assist and escort; energy support; salvage and emergency response through its TITAN Salvage subsidiary; vessel management; vessel construction and naval architecture through its Jensen Maritime subsidiary; government services, and petroleum and chemical transportation, distribution and sales. Additional information about Crowley, its subsidiaries and business units may be found on the Internet at www.crowley.com.
#     #     #
 Photo (left to right): Kai Einheuser, managing director, Nepa Shipping; Pappu Sastry, managing director, Nepa projects and investments; Mike Golonka, vice president, Crowley ship management; Arnold H.M. Phijffer, managing director, Nepa Shipping; Joshi Mathew, managing director, Crowley Technical Management International