Crowley Acquires 400 Additional 53′ Containers
Increases Company Equipment Fleet to More than 45,000 Units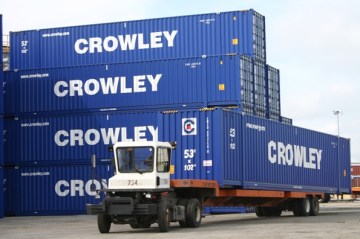 (JACKSONVILLE, Fla., Oct. 3, 2011) ­- To better serve customers shipping cargo between the U.S. mainland and Puerto Rico, Crowley Maritime Corporation has acquired 400 53-foot (102″ wide) dry high-cube containers and 375 53-foot chassis, adding to the company's already robust equipment fleet of more than 45,000 modern units. The containers, which have a capacity of 3,931 cubic feet and 42,660 pounds, were delivered in Jacksonville last week.
"This significant acquisition is part of our continued commitment to the U.S. – Puerto Rico trade and to meeting and exceeding our customers' requirements," said Crowley's John Douglass, senior vice president and general manager, Puerto Rico and Caribbean services. "These new containers, which provide optimum value for shippers with low density, high-cube cargo, are particularly needed now as we enter the peak holiday shipping season."
The new containers exceed all new and amended ISO standards for freight container door security applications. A combination of security enhancements and upgrades deters and prevents unauthorized access to containers and loaded cargo.
Over the years, Crowley has converted most of its enclosed-equipment fleet to containers, which offer structural durability and safety for cargo and the flexibility to be accommodated in both Lift-On/Lift-Off (Lo/Lo) and Roll-On/Roll-Off (Ro/Ro) services when paired with a chassis. Since 2003, Crowley has invested close to $240 million dollars to modernize its equipment fleet by nearly 24,000 units. Most recently, in April of this year, Crowley added 250 45′ (102″ wide) containers and 250 40′ (96″ wide) high-cube containers to its equipment fleet in order to better serve the growing needs of its customers in Puerto Rico, the Caribbean and throughout Central America.
Jacksonville-based Crowley Holdings Inc., a holding company of the 119-year-old Crowley Maritime Corporation, is a privately held family and employee-owned company. The company provides project solutions, transportation and logistics services in domestic and international markets by means of six operating lines of business: Puerto Rico/Caribbean Liner Services, Latin America Liner Services, Logistics Services, Petroleum Services, Marine Services and Technical Services. Offered within these operating lines of business are: liner container shipping, logistics, contract towing and transportation; ship assist and escort; energy support; salvage and emergency response through its TITAN Salvage subsidiary; vessel management; vessel construction and naval architecture through its Jensen Maritime subsidiary; government services, and petroleum and chemical transportation, distribution and sales. Additional information about Crowley, its subsidiaries and business units may be found on the Internet at www.crowley.com.
# # #