Crewmembers Aboard Crowley Tug Sesok Help Pilot Point Locals Fight Fire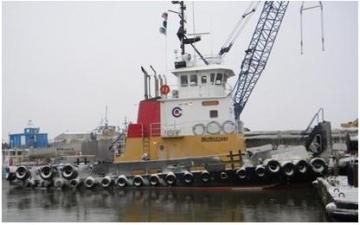 (PILOT POINT, AK; August 8, 2014) – Residents of Pilot Point, Alaska, are thanking the mariners aboard Crowley Maritime Corp.'s tugboat Sesok after its crewmembers recently extinguished a dangerous blaze on the shores of the Yukon River fishing village.
The Sesok crew was conducting a routine, petroleum transfer from a fuel barge to onshore storage tanks when a pile of building materials – trusses, foam insulation boards and plywood – caught on fire about 75 feet from the shore side connection hose, releasing toxic fumes and a thick plume of dark smoke into the air. That's when the tug captain, Crowley's Matt McLain, quickly ordered his crew to suspend operations, muster on deck and follow the company's fire emergency action plan.
"Thankfully, we have fire drills aboard the vessel each week," said McLain. "Even though our training is centered around vessel fires, we were able to adapt accordingly and assist the villagers."
Some crewmembers used the tug's fire extinguishers to fight the flames, while others led onlookers away from the toxic fumes. The crew also utilized the Sesok's portable water pump to combat the blaze with fresh river water.
It took the crew about two hours to fully extinguish the fire. They then safely completed the fuel transfer and sailed to their next destination, as scheduled.
"Our job doesn't stop at the boat and barge," said Crowley Port Captain Patrick Burns. "We have a responsibility to keep our communities safe, too. And that's exactly what the crew aboard the Sesok did in Pilot Point."
The Sesok is not the first Crowley tug to assist in a firefight. In 2006, crewmembers aboard the tug Guard helped firefighters extinguish a house fire on Washington's Vashon Island. In that incident, because of the rural makeup of the island, the fire department was unable to position its engines as close as they would have liked and relied heavily on Crowley's assistance from the water.