Costa Crociere Issues Statement of Thanks to the TITAN Salvage-Micoperi Team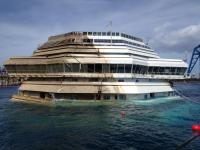 CEO Michael Thamm of Costa Crociere SpA, owner of the Costa Concordia, issued the following statement of thanks to the TITAN Salvage-Micoperi salvage team today (the following is a translation):
A personal thanks to each of you, five hundred men and women of the consortium Titan Micoperi, who with ingenuity, commitment and enormous passion have allowed for the removal of Concordia from the island of Giglio. The delicate and complex stage of work in this unprecendented project in naval history required, in addition to a huge technological effort, the invention of a new way of thinking. Thank you from the heart.
http://www.costacrociere.it/B2C/I/AreaNews/WreckRemoval/rimozione-costa-concordia.htm