Costa Concordia Ready to Tow, Departure from Giglio Island Scheduled for Tomorrow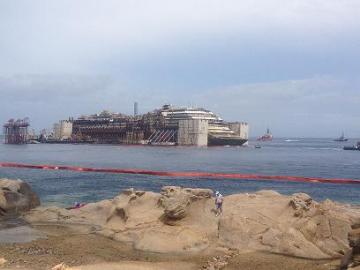 (Isola del Giglio, Italy; July 22, 2014) – Crowley Maritime Corporation subsidiary TITAN Salvage and Italian partner Micoperi have confirmed that 10 days after the intricate refloating phase of the Costa Concordia wreck removal began, the ship is ready to tow. A convoy of 14 vessels, led by the tugboat Blizzard, is scheduled to begin towing the Concordia tomorrow at daybreak to a port near Genoa, where it will be broken up for scrap, completing the largest maritime salvage operation in history.
In preparation of towing, the salvage team began the refloat phase on Sunday, July 13, and in a very calculated and deliberate manner, controlled buoyancy within the attached sponsons to bring the ship out of the water with approximately 18.5 meters of draft. Since the Concordia's safe refloating, she has been, and will continue to be, under the constant power of a team of tugs keeping a series of lines tight to ensure control in her upright position.
Additionally, divers and remotely operated underwater vehicle (ROV) operations have continued to monitor sponsons, cables and chains under the hull, and tow wires while onboard, and shoreside personnel constantly review and watch systems to ensure continued integrity of the operation.
"This operation has been and continues to be reflective of the team's desire to accomplish the mission with safety, ingenuity and detail," said Chris Peterson, TITAN Salvage vice president.  "Every aspect is being handled with the utmost professionalism and an inordinate amount of calculation and planning."
To learn more about this extraordinary engineering project, please visit www.theparbucklingproject.com website, which is the source of this information.
About TITAN Salvage
TITAN, a wholly owned subsidiary of Crowley Maritime Corporation, is a worldwide marine salvage, emergency response and wreck removal company based in Houston, Texas, that has performed more than 450 salvage and wreck removal projects since 1980, including some of the most technically demanding projects ever undertaken. The company also has offices and equipment depots in the UK, Singapore & Australia. TITAN responds to vessel emergencies around the world and is able to mobilize a worldwide network of expert salvage professionals and specialized, portable equipment within hours of activation. TITAN is accessible 24 hours a day through the company's main dispatch telephone number, +1-832-850-4150. Additional information about TITAN may be found at www.titansalvage.com. 
#     #     #