CEO and Chairman Tom Crowley and Sr. Vice President Rob Grune Featured in Maritime Executive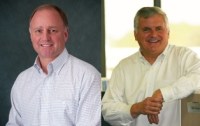 Crowley Maritime Corporation CEO Tom Crowley and Sr. VP & GM Rob Grune discuss the state of U.S. Maritime industry and the opportunities being generated from domestic energy production. Tom says the U.S. maritime industry is creating jobs, and investments in new tonnage are creating more jobs in the shipyards, and yet the industry gets no support from the Administration, which has no national maritime policy whatsoever. That makes it hard to fend off attacks by those who see no value in maintaining a strong domestic fleet.
You can read the full article here.