Captain Stuart Miller Rejoins TITAN Salvage as Salvage Master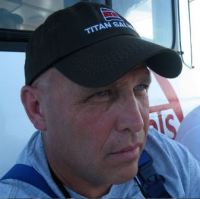 Capt. Stuart Miller has rejoined Crowley Maritime Corporation's TITAN Salvage operations team as salvage master, bringing with him over 30 years of worldwide, hands-on maritime and salvage experience. Capt. Miller will be based in the United States, but will deploy worldwide for salvage, wreck removal and other emergency response operations.
"TITAN Salvage is pleased to welcome Capt. Stuart Miller back home to our operations team," said Chris Peterson, vice president. "Capt. Miller is an unlimited master with decades of marine experience, including previous work for TITAN as a salvage master, and exhibits the skills and can-do attitude that make him TITAN through and through."
Capt. Miller originally joined TITAN in 2009 where he first earned his rank of salvage master and completed such epic jobs as the New Flame, MV Gabriel and others.  During that time, he was also featured often in the National Geographic Channel's TV series "Salvage Code Red" where he became recognized for his catch phrase describing modern-day salvors as, "ordinary people doing ordinary things in extraordinary situations." 
Capt. Miller continued his career as salvage master for a Denmark-based salvage company earning extensive experience in emergency response before rejoining the TITAN team. As a U.S.-based salvage master, he will work from the company's state-of-the-art emergency response center (ERC) in Houston – the only 24/7 manned salvage ERC in the U.S.
Throughout his career, Capt. Miller has gained both licensed and unlicensed experience in the deck and engine departments on all types of vessels, including Roll-On/Roll-Off, break bulkers, tankers, tugboats, navy suppliers, freighters, container ships, offshore supply vessels and passenger vessels. He holds a master's unlimited license from the United States Coast Guard and the Republic of the Marshall Islands.  
"As a master mariner, Capt. Miller brings extensive commercial shipping experience to his salvage master experience, something not held by many salvage masters in the industry," said Peterson. "The whole TITAN team enthusiastically welcomes him back."
About TITAN Salvage
TITAN, a wholly owned subsidiary of Crowley Maritime Corporation, is a worldwide marine salvage, emergency response and wreck removal company based in Houston, Texas, that has performed more than 450 salvage and wreck removal projects since 1980, including some of the most technically demanding projects ever undertaken. The company also has offices and equipment depots in the UK, Singapore & Australia. TITAN responds to vessel emergencies around the world and is able to mobilize a worldwide network of expert salvage professionals and specialized, portable equipment within hours of activation. TITAN is accessible 24 hours a day through the company's main dispatch telephone number, +1-832-850-4150. Additional information about TITAN may be found at www.titansalvage.com. 
#     #     #
To download a high-resolution copy of the photo for reproduction, click here.
The photo will open in your browser; right-click on the photo and select "Save As" to download.
Caption: Capt. Miller is an unlimited master with decades of marine experience, including previous work for TITAN as a salvage master.