Capt. Kenneth Graybill and Sal Menoyo Presented with Company's Highest Honor, the Thomas Crowley Award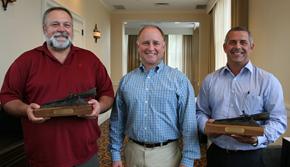 (Jacksonville, Fla., October 18, 2012) – Kenneth Graybill, captain of Crowley Maritime Corporation's articulated tug-barge (ATB) Legend/750-2, and Sal Menoyo, general manager of Crowley's Port Everglades terminal, were each presented with 2011 Thomas Crowley Awards, the company's highest honor, at an offsite ceremony held yesterday in Jacksonville. The ceremony took on additional significance because Graybill is the first person in company history to receive the trophy as a mariner.
The exclusive employee recognition program was created in 1985 and only 54 of the company's more than 5,300 employees have received the award symbolized by a limited edition bronze sculpture, which depicts company founder Thomas Crowley ferrying goods to and from ships on San Francisco Bay in the early 1890s. The trophy serves not only as a tribute to the founder of the company, but also to those honorees who have aligned themselves closely with the company's values displaying outstanding performance, dedication, leadership and initiative.
Crowley's Chairman, President and CEO Tom Crowley Jr., the grandson of the company's founder, presented the awards yesterday before more than 110 employees and senior leaders who had gathered from around the world for an important company safety summit. Included in audience were 14 past recipients of the Thomas Crowley Award (shown below).  
"Both of these men embody the qualities that this trophy represents," said Crowley. "The honor for Capt. Graybill, however, takes on additional meaning, not only because he is the first seagoing employee to be presented with this award, but also because he was nominated earlier this year by Capt. Vic Goldberg."
Goldberg, who worked for Crowley as vice president of marine operations for the company's petroleum transportation group for 10 years, passed away unexpectedly in early October.
"In his submission letter, Vic wrote that he nominated Ken because 'he has been a leader amongst his shipmates, always commanding his vessel in a professional manner. Most importantly, Capt. Graybill has been the sea trial master for all of [Crowley's] new ATBs prior to their delivery. This requires long periods away from home during his vacation time … Kenny has never refused to help when it is needed. I believe he measures up to all the values that this trophy embodies.' I couldn't agree more," said Crowley.
"This is an amazing honor," said Graybill. "I accept it with heartfelt appreciation. It's important for my fellow crewmembers to understand that we are recognized for a job well done. We are part of a company that recognizes that."
Menoyo has also demonstrated unyielding dedication to the company.
"Sal started his career at Crowley in Puerto Rico and has moved through the ranks to where he is today. He has done a fantastic job," explained Crowley. "­­­He has embraced our safety culture by starting a great new safety program in St. Thomas and he's doing it again now in Port Everglades. He's taking this long-time Crowley port to a whole new level and reviving it with his fresh, new approach. But that's only part of the reason why he was awarded. He also is recognized for the 'can-do' attitude he has displayed across so many disciplines and in so many locations."
"I am very humbled and honored to receive the award," said Menoyo. "I dedicate this award to all the employees who I have worked with throughout my career and allowed me to contribute to Crowley's success and accomplishments. We are very lucky to work for such a great company where our core values are the driving force of our business."
Graybill, who lives in Brunswick, Maine, began his career at Crowley in 2002 as a chief mate on the U.S. West Coast, and by 2003 had become a master. In 2005 and 2006, he transferred as a master to New Jersey and Jacksonville, consecutively, and he most recently sailed as captain aboard the Legend/750-2, one of three vessels in the class of Crowley's largest ATBs.
Menoyo, domiciled in Port Everglades, Fla., joined Crowley in San Juan, Puerto Rico, in 1995 as a senior port captain. In 2000, he transferred to Crowley's liner services team and held the roles of manager, cargo services, and manager, cargo operations, in St. Thomas. In 2004, he transferred to San Juan, Puerto Rico, as manager, yard operations, and soon after was advanced to the role of manager, cargo claims. In 2008, Menoyo was transferred back to St. Thomas as director of port operations and was soon promoted to general manager. In early 2011, he transferred to Port Everglades in the same position. He has a bachelor's degree in marine transportation from the Maritime College at Fort Schuyler, State University of New York. He is also a certified facility security officer.
Jacksonville-based Crowley Holdings Inc., a holding company of the 120-year-old Crowley Maritime Corporation, is a privately held family and employee-owned company. The company provides project solutions, transportation and logistics services in domestic and international markets by means of six operating lines of business: Puerto Rico/Caribbean Liner Services, Latin America Liner Services, Logistics Services, Petroleum Services, Marine Services and Technical Services. Offered within these operating lines of business are: liner container shipping, logistics, contract towing and transportation; ship assist and escort; energy support; salvage and emergency response through its TITAN Salvage subsidiary; vessel management; vessel construction and naval architecture through its Jensen Maritime subsidiary; government services, and petroleum and chemical transportation, distribution and sales. Additional information about Crowley, its subsidiaries and business units may be found on the Internet at www.crowley.com.
Top photo caption, left to right: Captain Graybill, Tom Crowley and Sal Menoyo
#     #     #