Barging Right into LNG: "Marine Link" Highlights Jensen's LNG Play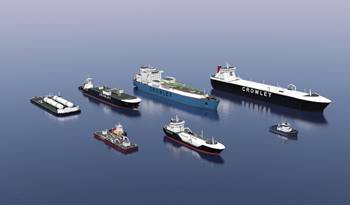 In a recent "Marine Link" article, Jensen's work in the LNG industry was highlighted. Excerpt below:
Jensen's LNG Play
At the Passenger Vessel Association (PVA) annual meeting held in Houston, Texas, Jensen Maritime Consultants had on display just a couple of their many design efforts underway at the Crowley-owned design and engineering shop. Naturally, those designs had the use or carriage of LNG as their central theme. LNG, at least on this side of the pond, is still largely uncharted waters, but that's hardly the case for Jensen. Their new LNG bunker barge design, for example, is ample testimony to that.
Ongoing in-house projects include an LNG bunker barge, the LNG-powered tug, LNG powered ATB designs and of course, the design work with the larger, faster and environmentally-friendly liquefied natural gas (LNG)-powered, combination container – Roll-On/Roll-Off (ConRo) ships. Already in the thick of LNG, Jensen will provide construction management and supervision in the shipyard throughout the building phase of the ConRos.
Jensen's bunker barge designs are a closely guarded secret, but Jensen will focus on two basic sizes – ranging from capacities of 2,000 to 3,000 cubic meters. According to Jensen, a bunker barge has to be large enough to where it makes sense, but also small enough that it is affordable and economical. 
Jensen's philosophy for LNG is simple. Summing it all up, Jensen Maritime Vice President Johan Sperling told MarineNews earlier this year, "The Rule of thumb today: LNG equipment is about double the price of non-LNG components. We're talking about the equipment. Whoever moves first takes the most risk because they are going to spend a lot of money and then the prices are going to drop. You don't want to be first and get it wrong."
Jensen went forward with its LNG pioneering efforts for several reasons. Sperling says, "It was a big risk – for a naval architect, time is money and we spent a lot of R&D time on this. In this case, we felt the risk was low enough because we think it's real enough that someone will eventually pay for it and that's exactly what has happened." Indeed, LNG ships being built, and when they are delivered, something will need to be in the water to serve them.
To read the full article, click here.