Anderson and Golonka Awarded 2010 Thomas Crowley Trophies
Join Exclusive Group of Recipients of Crowley's Highest Honor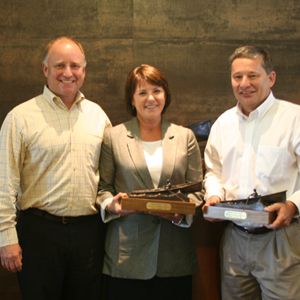 (JACKSONVILLE, Fla., Sept. 30, 2011) – Ketra Anderson, director of Crowley Maritime Corporation's safety and learning team, and Mike Golonka, general manager of ship management, were awarded 2010 Thomas Crowley trophies, the company's highest honor, at ceremonies yesterday at the company's headquarters in Jacksonville, Fla.
The exclusive employee recognition program was created in 1985, only 52 of the company's more than 4,300 employees have been awarded the limited edition bronze sculpture, which depicts a young Thomas Crowley as he ferried goods to and from ships on San Francisco Bay in the early 1890s. The trophy serves not only as a tribute to the founder of the company, but also to those honorees who have aligned themselves closely with the company's values and displayed outstanding performance along with dedication, leadership, initiative and productivity.
Tom Crowley Jr., chairman, president and CEO, presented the awards during ceremonies yesterday attended by local employees, including several previous recipients of the Thomas Crowley Trophy.
"Ketra and Mike have truly excelled," said Crowley. "They have not only demonstrated personal commitment to the goals, objectives and core values of the company, but they have also helped to infuse this commitment in others with whom they work."
"Ketra began her career at Crowley in Alaska making sure that we had the right people on board our vessels – it was an amazingly complicated job and she did it effortlessly," said Crowley. "Now she's working hard in Seattle to improve our company's culture, safety and performance by making sure we have all the right policies and procedures in place. She's done a fantastic job during her time at Crowley and I want to thank her for what she represents and all that she has accomplished."
"Words cannot express how proud I am to receive this prestigious award," said Anderson. "Thank you so much – and thanks to all of the wonderful people that I have had the privilege of working with over the years."
Golonka has distinguished himself helping to build up Crowley's ship management program.
"We knew we were good as a company at managing ships, but we left it up to Mike and his team to sell the program," Crowley said. "He has tackled every challenge we have given him and presents our program in such a clear, concise way – it's not just Crowley people who are impressed with him! He brings wonderful spirit, a great attitude and a big smile to the job every day and we're grateful to have him."
"This award means a lot to me – I feel like I grew up at Crowley. In fact, one of my first jobs out of school was with Crowley and I worked for Tom Crowley's father," said Golonka. "I understand the meaning of this company being family owned through the generations and I'm proud to be a part of the Crowley family. I believe in what we do and I'm excited to be a part of it."
Anderson began her career at Crowley in 1986 as a specialist in vessel operations. In 2001, she transitioned to coordinator for the crewing department, and in 2006 was promoted to senior administrator for SSQE. In 2009, she became manager of SSQE and assumed her current position earlier this year. Anderson is primarily responsible for Crowley's adherence to quality standards while defining processes to prevent deficiencies and encourage continual improvement as they relate to four key elements: safety, security, quality and environment.She oversees Crowley's quality management system that provides the framework for the business units affected by those certifications. The management system includes annual internal vessel, facility and office audits; third-party verification audits; document control and monthly measurements of key metrics. Anderson attended the University of Alaska and earned degrees in business and marketing.
Golonka joined Crowley in 1987 and over the years has served as senior port engineer, manager of ship operations, director of engineering and director of contract operations, prior to being appointed to his current position in 2009. Today he coordinates all sales, marketing and operations activities for Crowley's ship management group and its growing number of customers and vessels served, including container ships, tankers, U.S. Maritime Administration Ready Reserve Force ships, state-of-the-art deep-water derrick pipelay vessels and a self-propelled jack-up barge. Golonka earned an engineering diploma from the Calhoon MEBA Engineering School, and he holds an unlimited chief engineer license.
Jacksonville-based Crowley Holdings Inc., a holding company of the 119-year-old Crowley Maritime Corporation, is a privately held family and employee-owned company. The company provides project solutions, transportation and logistics services in domestic and international markets by means of six operating lines of business: Puerto Rico/Caribbean Liner Services, Latin America Liner Services, Logistics Services, Petroleum Services, Marine Services and Technical Services. Offered within these operating lines of business are: liner container shipping, logistics, contract towing and transportation; ship assist and escort; energy support; salvage and emergency response through its TITAN Salvage subsidiary; vessel management; vessel construction and naval architecture through its Jensen Maritime subsidiary; government services, and petroleum and chemical transportation, distribution and sales. Additional information about Crowley, its subsidiaries and business units may be found on the Internet at www.crowley.com.
# # #
Caption, left to right: Crowley, Anderson and Golonka