Alaska Air Carriers Association (AACA) Awards 2016 Forrest Jones Memorial Scholarship to Brandon Smothers of Talkeetna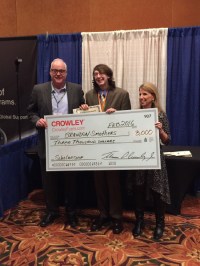 The Alaska Air Carriers Association (AACA) scholarship, underwritten for the last four years by Crowley Fuels in Alaska, was recently awarded to Brandon Smothers, a high school senior at Interior Distance Education Alaska (IDEA) in Fairbanks. Smothers, a Talkeetna native, will enter University of Alaska Fairbanks (UAF) this fall to pursue a degree in aeronautical engineering. 
Don King, senior account executive, highway sales for Crowley, presented Smothers with the $3,000 scholarship at AACA's 50th Annual Convention in Anchorage.
"He was chosen not only for his focus on earning an engineering degree, but also for his impressive 4.0 GPA," said King, who was on the board of directors for the AACA in the 1990s. "I have no doubt he will be successful in his aviation career. Air travel is one of Alaska's main forms of transportation so it is crucial for that infrastructure to keep developing. It is very important for us at Crowley to help support these outstanding students and the aviation industry."
Smothers' love of aviation began at the age of 12 when he joined the nationally-recognized Talkeetna Build-a-Plane program (TBAP) where he learned valuable skills like sheet metal fabrication and repair, riveting, electrical repair and welding, as well as project management and leadership. Soon after joining the program, he began flight training and has since logged over 50 hours. Because of his excellent work and dedication to the TBAP program, Smothers has been selected to attend multiple simulator sessions with both UPS and FedEx, and has worked as an intern for air-taxi company, K2 Aviation. He expects to complete his private pilot training this spring.
"My journey in the aviation community will not end here. In the fall, I will attend the University of Alaska Fairbanks where I will major in aeronautical engineering," said Smothers. "My ultimate goal is to work as a pilot for an Alaska-based air service and help establish TBAP programs in small communities throughout the region."
Crowley in Alaska
Crowley, which has been serving Alaska for more than 60 years, actively serves the Alaskan aviation community as a supplier, transporter and seller of aviation and jet fuel to airports, operations, airlines and general aviation. Crowley Fuels operates 22 fuel terminals in western Alaska and along the rail belt, with more than 500 employees across the state, including over 90 Native Alaskans. The Crowley team has positioned the company as a leader in the Alaska fuel industry, providing transportation, distribution and sales of petroleum products to more than 280 communities across Alaska. Crowley also supports the energy industry on the North Slope with summer sealifts of large production modules and various marine transportation services and by providing tanker escort and docking services in Valdez Harbor and Prince William Sound for Alyeska. For more information about Crowley in Alaska, please visit www.crowleyalaska.com. 
#     #     #