101 Crowley Vessels Honored with Environmental Awards in Recognition of 984 Combined Years of Safe Operations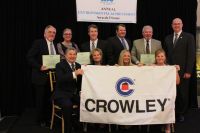 (WASHINGTON, D.C.; November 16, 2015) ­– More than 100 Crowley Maritime Corporation-owned and -operated vessels were honored with Certificates Each year, CSA invites all owners and operators of vessels who work on oceans or inland waterways to nominate their vessels for Environmental Achievement awards. Approximately 1,601 vessels from 42 companies, including Crowley, were recognized this year.of Environmental Achievement for years of safe operations during the recent 12th-annual Chamber of Shipping of America (CSA) awards ceremony, held at the Ronald Reagan Building and International Trade Center in Washington D.C. Each of Crowley's honored vessels received the certificates for having worked at least two consecutive years without an environmental incident.
Together, the company's 101 vessels have logged a combined 984 years of service without incident, a true testament to Crowley's commitment to keeping harbors and oceans clean.  Additionally, 46 of Crowley's vessels have gone without incident for 10 or more consecutive years. These noteworthy vessels include: Kuparuk River and Kavik River, each with 45 years; and Sag River, 40 years. Crowley has been honored with Environmental Achievement Awards each year since at least 2005.
"Crowley's No. 1 core value is safety.  Not only does that include the safety of our employees, but the safety of the environment," said Mike Golonka, vice president, government services. "These awards highlight the rigorous work of our crews, who ensure that our vessels continue to operate safely and in an environmentally responsible manner."
Accepting the awards on behalf of Crowley were Golonka; John Bohn, captain at Crowley's Marine Transport Lines; Wendy MacDonald, vice president, technical management; Keith Montpas, chief engineer, petroleum services; Jay Debruhl, port captain, petroleum services; Jack Andrews, technical management, and Jarrett Flynn, captain, marine services.
Crowley published a Safety in Towing Handbook two decades before the Oil Pollution Act of 1990, evidence of the company's long history of environmental protection. This commitment has developed into a strong company culture of environmental stewardship, in which the company focuses on greener technology, more environmentally friendly operations and partnerships that help build a greener planet.
Crowley's EcoStewardship initiatives have led to special recognition over the years from several government organizations including the U.S. Coast Guard's William Benkert Award for Environmental Excellence, Washington Department of Ecology Exceptional Compliance Program, Pacific States/British Columbia Oil Spill Task Force Legacy Award and the United States Green Building Council LEED (Leadership in Energy and Environmental Design) Silver Award Designation, among others.
The following is a list of vessels owned or operated by Crowley, or one of its subsidiaries, that received environmental excellence awards this year from the CSA:
Crowley Liner Services:
MV PILOT
Crowley Marine Services:
ARTIC HAWK
KALLUK
MV ADMIRAL
MV AKU
MV AVIK
MV CHIEF
MC GAUNTLET
MV GOLIAH
MV GUARD
MV GUARDIAN
MV GUARDSMAN
MV GUIDE
MV HAWAII
MV HUNTER
MV KAVIK RIVER
MV KUPARUK RIVER
MV LEADER
MV MASTER
MV NACHIK
MV OCEAN SKY
MV OCEAN SUN
MV OCEAN WAVE
MV OCEAN WIND
MV PROTECTOR
MV PV. THOMPSON
MV RAMPART
MV SAG RIVER
MV SCOUT
MV SEA PRINCE
MV SESOK
MV SIKU
MV TIOGA
MV TOOLIK RIVER
MV VALOR
MV VETEREN
MV VIGILANT
MV WARRIOR
STALWART
TANERLIQ
TUG ALERT
TUG ATTENTIVE
TUG AWARE
TUG BULWARK
TUG NANUQ
Crowley Petroluem Services
ATB ACHIEVEMENT / 650-8
ATB COASTAL RELIANCE / 550-4
ATB COURAGE / 650-5
ATB GULF RELIANCE / 650-2
ATB INNOVATION / 650-9
ATB INTEGRITY / 650-4
ATB LEGACY / 750-1
ATB LEGEND / 750-2
ATB LIBERTY / 750-3
ATB OCEAN RELIANCE / 550-3
ATB PACIFIC RELIANCE / 650-1
ATB PRIDE / 650-7
ATB RESOLVE / 650-3
ATB SEA RELIANCE / 550-1
ATB SOUND RELIANCE / 550-2
FLORIDA
PENNSYLVANIA
Crowley Puerto Rico Services
MV DEFENDER
MV ENSIGN
MV EXPLORER
MV MONITER
MV PATRIARCH
MV SENTINEL
MV SENTRY
TUG ADVENTURER
TUG RANGER
TUG WARRIOR
Crowley Technical Management
CAPE INSCRIPTION
CAPE INTREPID
CAPE ISABEL
CAPE TRINITY
COURAGE (ARC)
EMPIRE STATE
EVERGREEN STATE
FREEDOM (ARC)
GOLDEN STATE
HONOR (ARC)
INDEPENDENCE II (ARC)
INTEGRITY (ARC)
NATIONAL GLORY
OCEAN FREEDOM
PELICAN STATE
RESOLVE (ARC)
SS CURTISS
SS WRIGHT
SUNSHINE STATE
SWORDFISH
Marine Transport Lines
CAPE DECISION
CAPE DIAMOND
CAPE DOMINGO
CAPE DOUGLAS
CAPE DUCATO
Marine Transport Management
CHARLESTON EXPRESS
PHILADELPHIA EXPRESS
ST LOUIS EXPRESS
WASHINGTON EXPRESS
YORKTOWN EXPRESS
About Crowley Maritime
Jacksonville-based Crowley Holdings Inc., a holding company of the 123-year-old Crowley Maritime Corporation, is a privately held family and employee-owned company. The company provides marine solutions, energy and logistics services in domestic and international markets by means of six operating lines of business: Puerto Rico Liner Services, Caribbean and Latin America Liner Services, Logistics Services, Petroleum Services, Marine Services and Technical Services. Offered within these operating lines of business are: liner container shipping, logistics, contract towing and transportation; ship assist and escort; energy support; salvage and emergency response through its 50 percent ownership position in Ardent Global;  vessel construction and naval architecture through its Jensen Maritime subsidiary; global ship management; government services, and petroleum and chemical transportation, distribution and sales. Additional information about Crowley, its subsidiaries and business units may be found on the Internet at www.crowley.com.
#     #     #