Rewarding Jobs for Maritime Academy Graduates
Crowley continues to be a top employer for the next generation of the maritime workforce. We are committed to the next class of maritime academy graduates starting out in the marine industry. Crowley supports career growth and offers diverse, rewarding options for jobs at sea or on shore.
Crowley has the most diverse fleet among U.S.-flagged ship operators, which allows mariners opportunities on different types of ships. Many cadets find Crowley during their cadet shipping rotation. Students covet Crowley's program because of its diverse learning opportunities and supportive culture onboard our ships. Firsthand experience aboard seagoing vessels is a crucial component for ensuring marine academy cadets are prepared for maritime jobs post-graduation.
A Cadet's Story
Jason Hatch, a Maine Maritime Academy graduate and now a chief mate in Crowley's Alaskan ATB fleet, said after his cadet shipping rotation, he kept an eye out for an open opportunity with Crowley. He knew this was the place he wanted to work and was patient for the perfect opportunity. He landed a third mate position on an articulated tug-barge (ATB) on our West Coast fleet to start his career with Crowley.
Hatch serves on the Aurora-Qamun in Western Alaska; his rotation is 45 days on the ship and 45 days off. His ship transfers fuel to smaller tugs and barges for delivery in Western Alaska. His responsibilities include navigation rotations, as well as overseeing cargo operations – planning and executing loads and discharges efficiently and safely. "At Crowley there is always room for advancement. My goal is to one day be a captain on a ship," he added.
Values Guide Our Ships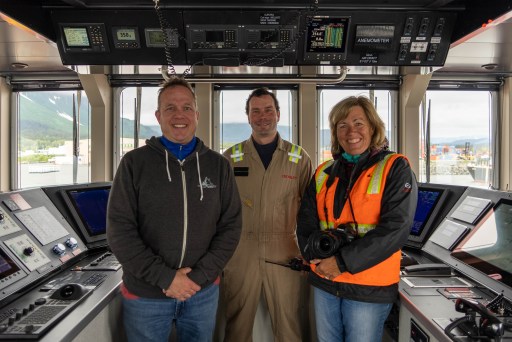 Crowley empowers every mariner to prioritize safety through its Stop Work Authority policy. If anything is not safe or something does not seem right, a crew member or any team member is encouraged to call attention to the matter, pause and reassess the project at hand to be safe.
"Sustainability and safety go hand-in-hand on our ships," said Hatch. He sees firsthand where the company's values of integrity, sustainability and drive come to life. Safety procedures are a priority for keeping the crew healthy and uninjured. Protecting the environment through rigorous protocols is of utmost importance.
Important Mariner Traits
Thinking quickly is key, especially with shipping plans changing constantly. "Especially on an Alaskan ship, you really need to be flexible with crew changes," Hatch said.
Integrity, admitting when something might not have gone according to plan, and helping identify ways to improve an operation are also integral traits of a mariner. As a learning organization, Crowley stresses always trying to get better, whether that is in team safety and welfare, the environment or the culture. Mistakes will happen and looking to improve rather than assign fault is essential to our culture.
A positive attitude and ambition to excel at your job can take someone starting in as an entry-level officer or unlicensed or ordinary seaman up the ranks quickly.
Life at Sea for Maritime Academy Graduates
Crowley prides itself on maintaining high-quality ships that make their crew members comfortable while at sea. We have increased crew Internet access onboard vessels so that mariners can keep connected with family and friends at home. "Having Wi-Fi is a game changer, especially when working in remote parts of Alaska," said Hatch.
Many mariners, including Hatch, say the quality fitness equipment available is important and available on most ships.
Hatch says Crowley values its employees and offers training and encouragement for mariners seeking career growth. "There is always room for advancement for those who seek it." Hatch said.
Advice for the Next Generation of Mariners
A few key takeaways from Hatch:
Maritime cadets are usually placed in third mate job openings or third assistant engineer positions," he said
The crews aboard ATBs, which are typically smaller vessels than container ships, feel like a family, Hatch said.
He enjoyed his cadet shipping rotation experience with Crowley and thinks this program is an ideal way for maritime academy cadets to get job experience.
Crowley strives to be the most sustainable maritime and logistics provider in the Americas. This includes leading the charge to make offshore wind generation a top source for energy production and plans to be a key marine service provider for this sector. maritime workforce for years to come. for years to come.
Crowley offers rewarding maritime careers for college graduates and others looking to join a company that prioritizes safety and innovation while providing competitive wages, opportunities to advance and the choice to join a hard-working team building a sustainable future.
OTHER STORIES THAT MAY INTEREST YOU: