Cadet Shipping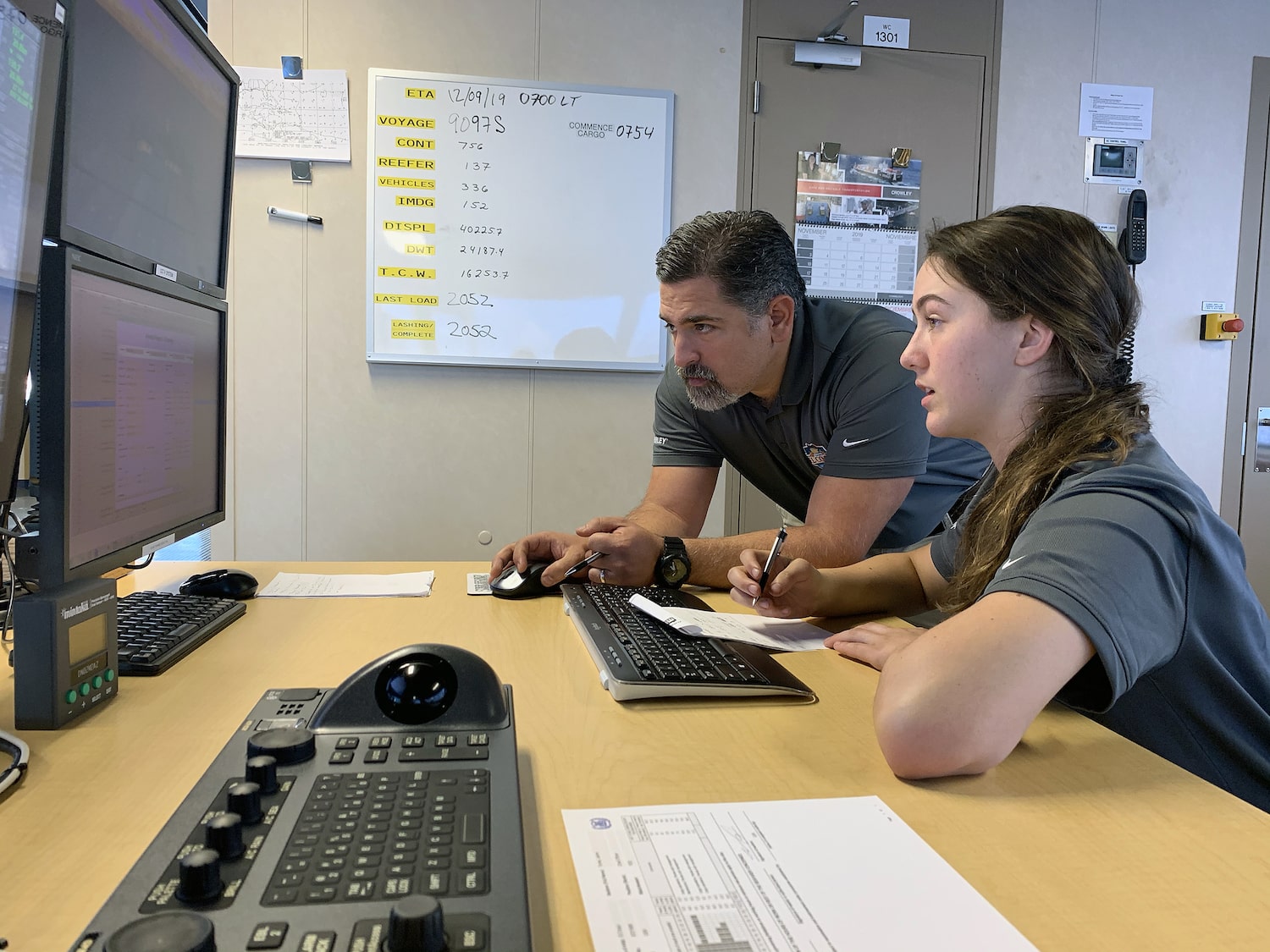 Crowley Careers
Crowley's Cadet Shipping Program
Crowley recognizes the importance of creating a work environment where everyone feels valued and is supported and empowered to do their best work. We want our employees to bring great ideas to help fulfill our mission of enriching people's lives through innovative solutions done right.
Our goal is to foster a culture that is honest to our values. A culture that attracts the best talent, champions diversity of experiences and inclusion of perspectives, while encouraging innovation. We strive to create a workplace where everyone can be themselves.
Hands-On Experience Ensures Success
Hands-on experience aboard sea-going vessels is a crucial component to ensuring academy cadets are prepared for maritime careers post-graduation. While most of the academies have training ships, partnerships with industry partners, like Crowley, allow for expanded onboard vessel space to provide cadets with necessary seagoing opportunities.
Interested in Sailing as a Cadet with Crowley?
Crowley is the largest private Jones Act employer and cadet shipping provider in the industry. The company has developed the most comprehensive year at sea program focused on diversity and inclusion. Through this program cadets can apply directly with the company, regardless of school ranking.
To be considered for a cadet shipping position, eligible, available and interested applicants must submit the following application package through the academy. Crowley will make cadet selections and notify the school those who have been selected.
Cadet application package must include:
Crowley Application (via the Academy)
Professional Resume
Merchant Mariner Credential
Valid U.S. Passport
Essay (500 words)
One of the most important requirements of the application process is submitting a written 500-word essay on diversity and inclusion. The essay must cover:
1. How their unique background, upbringing and social experiences would enhance the company's efforts in growing a diverse and inclusive sailing workforce in the Crowley fleet.
2. The importance of diversity and inclusion in the maritime industry from their perspective.
Students who complete Crowley's cadet shipping program may apply for the Thomas B. Crowley Scholarship for financial assistance.
2021 and 2022 Maritime Academy Graduates! If you cadet shipped with Crowley and want to be considered for the Senior Cadet Training Program (formally known as the Maritime Academy Recruitment Assistance Program) please submit the following information.
What Academies Have To Say
"Crowley's support of our Cadet Shipping and Field Experience programs is unmatched in the Maritime Industry. The experience our students gain working aboard a Crowley vessel is a powerful catalyst for their education and careers."
"STAR Center is appreciative of all the support the Crowley Cadet Shipping team provides to our training for both the current and future men and women of American Maritime Officers.  Of particular note, STAR Center's TECH program is internationally recognized for its outstanding accomplishments in support of maritime safety and professionalism. The onboard billets and support that Crowley Cadet Shipping provides to this program is critical to its ongoing success."
"Without the relentless support of Crowley Maritime, USMMA would have trouble keeping our cadet shipping program afloat. Our relationship with Crowley and it's wonderful employees is something very special and keeps the cadet shipping program operating as a well-oiled machine. We look forward to providing Crowley with motivated future mariners and continuing to grow together to fit the needs of the industry."
"Crowley Maritime's professional management and significant support for cadet shipping is highly valued and widely regarded at Massachusetts Maritime Academy as the industry standard all license track cadets should strive for and achieve. Crowley cadet shipping policies and procedures are considered throughout the commercial shipping program process as the primary professional company guideline example followed to securing not only these highly coveted billets but an added benefit for every commercial shipping assignment. "
"SUNY Maritime College greatly appreciates strategic partnerships with industry partners such as Crowley Maritime to ensure that our academic and hands-on training programs fully prepare graduates for future industry challenges.  In addition to Crowley's robust scholarship support, cadet shipping opportunities aboard Crowley vessels provides students a practical work experience in a professional, industry-supported environment.  Over the years, many SUNY Maritime College graduates have gone on to enjoy meaningful careers with Crowley Maritime."