On National Flag Day We Reflect on the Importance of U.S.-Flag Vessels and American Crews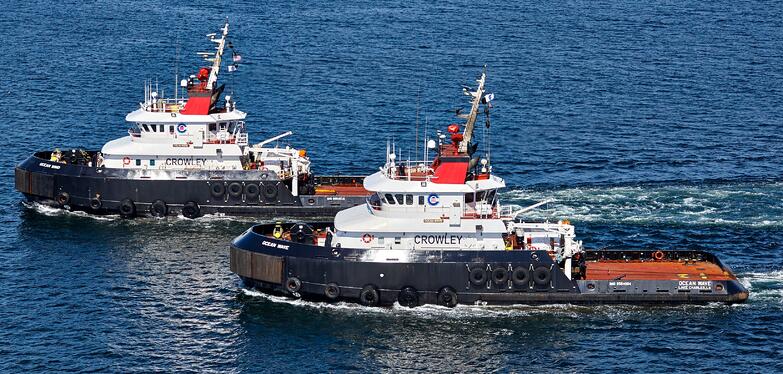 As a U.S.-owned company, Crowley is proud to observe National Flag Day, held each year on June 14 to commemorate the 1777 adoption of Old Glory. Honoring the day each year not only respects our national symbol, but also pays tribute to our great country and all that it represents. Today Crowley also reflects on what it means that so many of our company-owned and -managed vessels are U.S.-flagged, a designation made in accordance with the Jones Act. Read on to learn about why the U.S.-flag designation is very special and important to America's security, economic strength, environmental stewardship and more.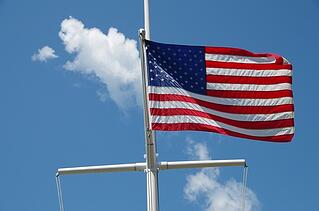 The Jones Act, also known as the Merchant Marine Act of 1920, requires vessels in domestic waterborne trade to be owned by U.S. citizens, built in the United States and crewed by U.S. mariners. Other laws and statutes apply the same ground rules to the movement of passengers, towing, dredging and marine salvage. These provisions keep American shipping companies, shipyards, mariners, maritime academies and thousands of people working. It also keeps jobs, ships, shipbuilding and a maritime skill base in the U.S. By supporting the Jones Act, Crowley and others support American success.
National security
It has been well documented with unanimous support from the various Department of Defense sectors that a strong U.S. merchant marine is paramount to the safety and security of our nation's commercial and military supply infrastructures. While the Jones Act and other U.S. maritime cabotage laws govern domestic waterborne commerce, they also play a vital role in the nations ability to defend its interests overseas.
When American troops are stationed abroad, more than 90 percent of the material required is moved by ships. It is critical to national security that these ships be owned and operated by U.S. forces. This guarantees that we will not be held hostage to whims and dictates of foreign ship owners and operators, or foreign mariners, when maritime resources are needed to respond to national disasters or for security assignments.
Job creation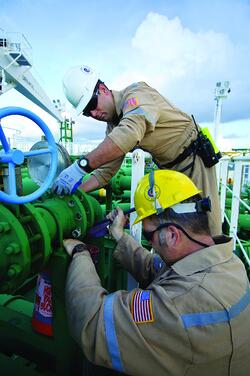 While Jones Act vessels engage in these transoceanic voyages, equally important are its mariners who began their careers in the Jones Act trades. It is they who crew the other U.S.-flag vessels ferrying arms and supplies to war zones. The 499,676 jobs the Jones Act creates and sustains are spread across the nation. It's clear that the Jones Act keeps American shipping companies, shipyards, mariners, maritime academies and thousands of people working. 
Further, Crowley's efforts with the maritime industry and the U.S. armed forces increases opportunities for veterans to obtain jobs in the maritime industry. The industry projects a strong need for qualified mariners during the next decade, and service members' training, especially in the Navy, can make them ideal candidates. 
"Because of the Jones Act, Crowley and others in the maritime industry can help veterans find domestic jobs while filling a need on the commercial side, and crew up mariners who are needed for our national security sealift purposes," said Crowley's Mike Roberts, senior vice president and general counsel.
Economic strength
In a strong economy, Jones Act vessels will carry more than 1 billion tons of cargo, or more than 40 percent of all waterborne commerce in the United States. This activity generates $100.3 billion in economic output, adds another $45.9 billion to the value of U.S. economic output, and contributes $11.4 billion in federal, state and local taxes.
Ships and tug-barge units are also extremely efficient. The Jones Act fleet hauls nearly a quarter of all domestic freight, yet accounts for only two percent of the freight bill.
Further, it has been shown that the Jones Act is a critical component to the long-term sustainability of the U.S. fleet and the health of the U.S. shipbuilding industry. America's Naval and Coast Guard vessels benefit from the skills and economies that come from building 2,000 Jones Act vessels each year in American shipyards. Importantly, a strong domestic maritime industry controls shipbuilding costs for the Navy, the Marine Corps and the Coast Guard by ensuring the health of the industrial base.
And in Puerto Rico, where the economy has been in a decade-long decline, Roberts commented, "Crowley is spending hundreds of millions of dollars as part of the company's commitment to the market and to the Jones Act, which is making these investments possible. Where the future health of the Puerto Rico economy is concerned, we believe we are part of the solution. Our investment and continued service enhancements with our liner and logistics offerings will create opportunity for people there, both in terms of jobs – Crowley employs more than 300 people in Puerto Rico today – and overall economic impact. It is important to remember that the needs of the Puerto Rico people for goods are going to remain despite the government's financial difficulties. And Crowley will be there now and in the future to serve you and ensure these goods make it to market."
Safety and environmental stewardship
The Jones Act underscores the industry's commitment to safety and environmental stewardship, particularly as use of tankers in the petroleum and chemical transportation has increased. Crowley's tanker business recently surpass 1 billion barrels in in petroleum transfers over about 10 years. During that time, accumulated spills to water totaled about only 6.2 gallons.
Waterborne commerce is also the greenest form of transportation. A large U.S.-flag Great Lakes freighter can carry a ton of cargo 600-plus miles on a gallon of fuel compared to 200 for a train, and do so while producing 70 percent less carbon dioxide. A 24-barge tow on the inland rivers moves the same amount of grain as 384 rail cars or 1,680 highway trucks again a boon to the environment and a much-needed lessening of congestion on the nations overburdened rail beds and interstates.
"American carriers have triggered the construction in U.S. shipyards, and deployment in U.S. domestic service, of vessels that may prove to be prototypes of the world shipping fleet as it begins to transition to extremely low-emissions propulsion," said Roberts. "Regulated American vessels bring significant environmental benefits to U.S. ports, such as Puerto Rico, where air quality is a major concern."
Supporting the Jones Act is in America's best interest
The benefits of a vibrant and growing Jones Act fleet are almost too many to list. In short, the Jones Act is critical to U.S. national security and to the retention of U.S. jobs and maritime industry skills. Crowley is proud to support such an American endeavor on National Flag Day and every day.