Crowley Fuels Honored with "Alaska Safe Truck Fleet of the Year" Award
Crowley Fuels has been honored with the ConocoPhillips/Alaska Trucking Association (ATA) "Alaska Safe Truck Fleet of the Year" award in the Line Haul Division (fleet size under 50 units) for continuing to perform at an elite level of safety. ConocoPhillips/ATA presented the award to Crowley Vice President Laura Yellig during the ATA's annual Safety Awards Banquet in late April in Anchorage.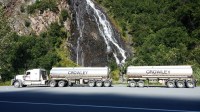 To be considered for the "Alaska Safe Truck Fleet of the Year" award, the Crowley team was evaluated and ranked on several 2016 statistics, including the total number of miles driven, the company's Federal Motor Carrier Safety Administration CSA fleet scores, accident frequency and overall Occupational Safety and Health Administration (OSHA) rate. Last year, drivers of the Crowley fleet of more than 100 vehicles, which includes 27 line haul trucks, drove almost 3 million miles while delivering more than 150 million gallons of petroleum products to communities across Alaska.
Since 2011, Crowley has made substantial investments in new equipment, maintenance and driver safety training, all of which have helped to achieve higher dependability, productivity and safety. Crowley's new equipment includes tractors, local delivery trucks and trailers.
"Crowley is committed to safely serving the fuel needs of Alaska, as demonstrated by our continued investment in the right equipment, facilities and, most importantly, our employees," said Yellig. "Our highway staff earned the honor by doing their best every single day, often in incredibly challenging conditions."
"We are grateful to our dispatchers, drivers, mechanics and support staff for building a business deserving of this recognition – built on the countless activities, decisions and commitments that they make daily," said Jasper Hall, director, highway fuel distribution. "Our team is committed to enhancing the lives of Alaskans with safe, reliable fuel delivery service and it is nice to know that their efforts are appreciated by the industry."
The Safety Awards Banquet, dually hosted each year by the ATA and ConocoPhillips, is a premier event to recognize carriers that have the best safety performance. The competition becomes more challenging with each passing year, as companies continually improve their focus on safety through regular meetings, driver workshops, trainings and a variety of other employee development programs.
"I'm thankful to work every day with very good people who are committed to doing a great job," said Dan Virgin, manager, line haul trucking. "We always perform as one team – and we couldn't deliver fuel all over the state of Alaska without the support of the entire Crowley organization. Together, we have created a very strong organization, and we aren't done yet – we want to continue to grow and support Alaska's diverse fuel needs."
About Crowley
Crowley is a leader in the Alaska fuel industry, providing transportation, distribution and sales of petroleum products to more than 280 communities across Alaska. Crowley also supports the energy industry on the North Slope with summer sealifts of large production modules and various marine transportation services. For over 35 years, Crowley has provided tanker escort and docking services in Alaska, utilizing some of the most technologically advanced and powerful tugboats in the world. To learn more about Crowley in Alaska, visit www.crowleyalaska.com.
To learn more about Crowley Maritime Corporation, the 125-year-old, privately held company providing marine solutions, energy and logistics services around the world, please visit crowley.com.