New Program Improves Used-Vehicle Export Process from Port Everglades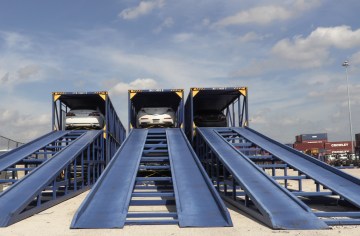 Crowley Maritime Corp. has helped launch a pilot Vehicle Validation Export Process Program that now allows shippers to submit original vehicle export documentation electronically instead of delivering physical copies to a local customs trade office. The automated program, which is the first of its kind anywhere in the country, is currently being offered in Port Everglades to exporters shipping used vehicles from South Florida to destinations throughout the Caribbean, Central America and beyond. Crowley was a critical player in developing the test program, which kicked off earlier this month.
The test program offers several key advantages. First, it offers exporters the ability to skip in-person visits to the trade office in Port Everglades to deliver original vehicle export documentation – a time-saving efficiency that ensures faster document processing and reduced shipment times by around a day. Now, shippers can submit digital copies online any time of the day or night for faster review, processing and approval. 
Digital copies also mean that exporters are no longer required to make multiple copies of documentation per vehicle being shipped, since the files can be provided electronically. 
"The convenience of this program for all parties involved can't be overemphasized. It goes without saying that offering an automated, online program for exporting used vehicles is a major trade advantage for South Florida," explained Crowley's Nelly Yunta, vice president. "This effort is the result of years of hard work, and it is our hope that it will be a successful experience that has long-term value."
"Crowley consistently positions itself on the leading edge of innovative and modernized business processes that allow the shipping line and its customers to work more efficiently," said Steven Cernak, chief executive and port director, Port Everglades. "In Fiscal Year 2017, 42,553 TEUs of vehicle cargo were exported at Port Everglades. This new program will allow Port Everglades to further develop the market."
Vehicle exporters interested in taking advantage of this time-saving pilot program should contact Crowley at PEVtraffic@crowley.com or 1-800-CROWLEY for instructions. The required documents must still be submitted 72 hours prior to the exportation of the vehicle. 
The pilot program is expected to continue through at least March, when it will be considered for further implementation in Port Everglades and potentially other locations.
About Crowley
Jacksonville-based Crowley Holdings Inc., a holding company of the 126-year-old Crowley Maritime Corporation, is a privately held family and employee-owned company that provides marine solutions, energy and logistics services in domestic and international markets. Six operating lines of business provide logistics and supply chain management, including liner container shipping; government services; contract marine towing and transportation; ship assist and tanker escort; offshore engineering and upstream project support; deep sea petroleum and chemical transportation; liquefied natural gas (LNG) transportation, distribution, engineering and consulting services; Alaska fuel sales and distribution; vessel management; vessel construction and naval architecture through its Jensen Maritime subsidiary, and salvage and emergency response through its 50 percent ownership in Ardent Global. Additional information about Crowley, its subsidiaries and business units may be found at www.crowley.com.
About Port Everglades
A global powerhouse for international trade, Broward County's Port Everglades handles more than one million TEUs annually (20-foot equivalent units, the industry standard measurement for container volumes) and serves as a gateway to Latin America, the Caribbean, Europe and Asia. Located within the cities of Fort Lauderdale, Hollywood, and Dania Beach, Florida, Port Everglades is in the heart of one of the world's largest consumer regions, including a constant flow of approximately 112 million visitors statewide and 6 million residents within an 80-mile radius. Port Everglades has direct access to the interstate highway system and the Florida East Coast Railway's 43-acre intermodal container transfer facility, and is closer to the Atlantic Shipping Lanes than any other Southeastern U.S. port. Ongoing capital improvements and expansion ensure that Port Everglades continues to handle future growth in container traffic. More information about Broward County's Port Everglades is available at porteverglades.net or by calling toll-free in the United States 1-800-421-0188 or emailing PortEvergladesCargo@broward.org.
Shipping & Logistics Announcements
Terminal Escort Fee and Seal Fee at Port Everglades and Jacksonville – Updated!
We want to clarify a recent update we shared concerning Seal Fees. We aim to decrease the number of non-compliant seals on containers showing up in our terminals, which we then must replace. If you are shipping internationally, you must affix a compliant high security seal on your containers that meets the International Organization for […]
Read More
Shipping & Logistics Announcements
Terminal Escort Fee and Seal Fee at Port Everglades and Jacksonville
To Our Crowley Partners, We have some important updates to share: Terminal (TWIC) Escort Fee:Effective January 1, 2024, a $75 per instance Terminal Escort fee will be assessed to all trucks requiring an escort in line with U.S. Customs and Border Protection (CBP) requirements regarding port access under the Transportation Workers Identification Card (TWIC) regulation. […]
Read More