Home
Worldwide Logistics, Government, Marine and Energy Solutions
People who know Crowley, know our employees are among the most knowledgeable and customer-focused in the industries we serve. They appreciate that we go places and solve problems others can't. That we simplify the complex and make the routine more efficient. And, that we are committed to the success of their mission, project or supply chain. We invite you to explore our website and let us know how we may be of service.
Complete End-to-End Supply Chain Services in the
United States, the Caribbean Basin, Central America,
and Beyond
Transportation, Distribution, and Sales of Petroleum and Fuel Products to More Than 160 Communities Throughout the state of Alaska

Government Services – Maritime, Supply Chain and Freight Transportation Management, Expeditionary Logistics, Technology and Energy Solutions
Services for Maritime and Offshore Sectors, including Design, Engineering, Construction and Operations; Petroleum Transportation, and Ship Assist
Support for Offshore Wind, including Marine Terminals, Supply Chain Management, Transport & Operation, Construction & Installation, Operations & Maintenance Solutions
People Who Care
From supporting academic achievement and providing hands-on assistance to those in need, to helping current and former military personnel transition into the maritime industry, Crowley is committed to the communities where we work.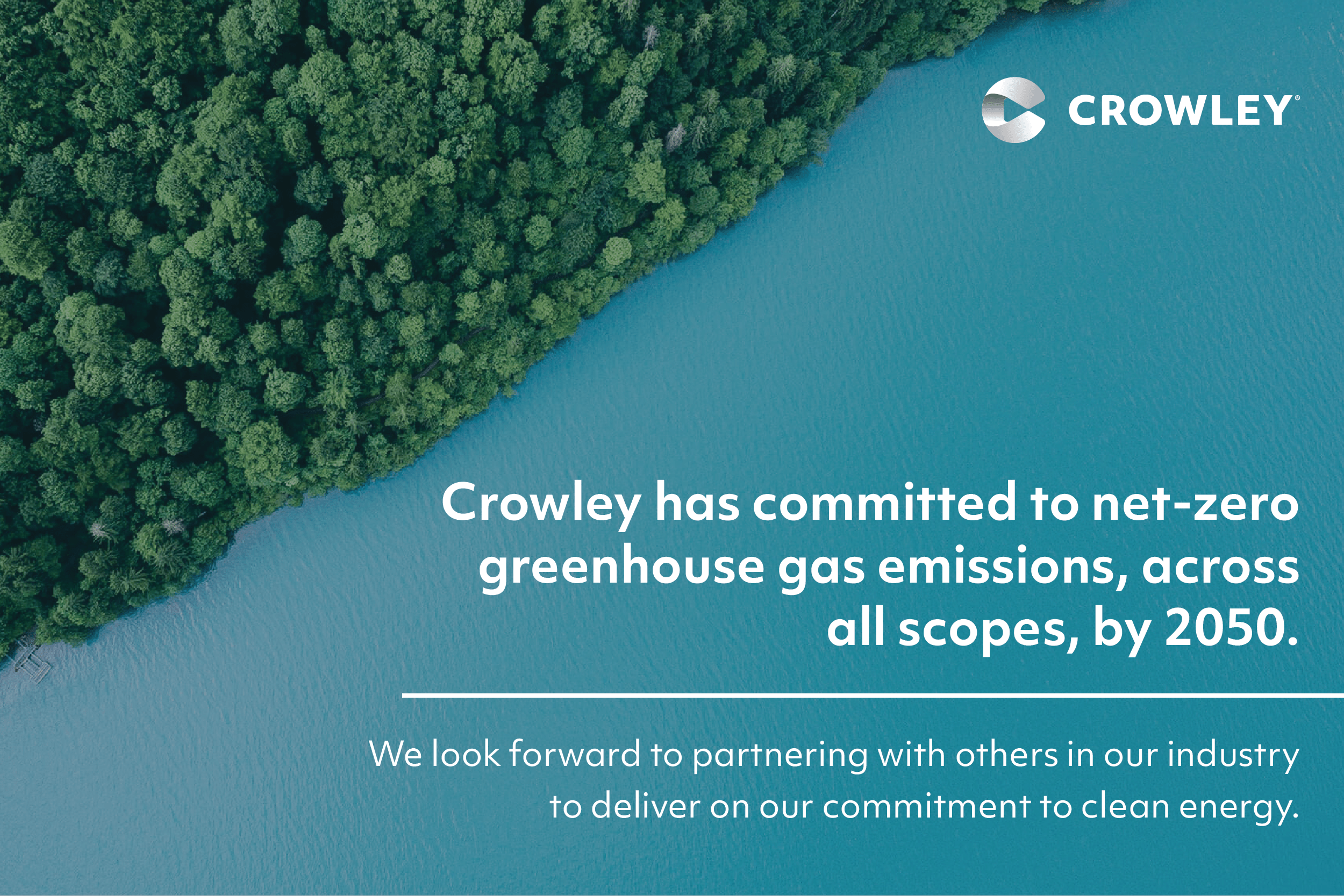 Crowley's Commitment to Sustainability
To reach this target, Crowley estimates that it will reduce overall emissions by 4.2 million metric tons of greenhouse gases per year, or the equivalent of removing more than 900,000 cars from the road every year.
"Crowley is on a mission to become the most sustainable and innovative maritime, logistics company in the Americas," said Tom Crowley, chairman and CEO. "Working together with our customers, suppliers, policymakers and others across our value chain, we can meet the climate crisis head on."
As it lays the groundwork for a clean energy future, Crowley is creating partnerships across the industry with government and non-governmental organizations to collaboratively achieve decarbonization and climate action.
Crowley Will Build and Operate the First Fully Electric U.S. Tugboat
The future of sustainable tugboats advances with the eWolf, the first all-electric tugboat in the U.S. to serve the ship assist industry. The zero-emissions tug continues Crowley's dedication to sustainability and decarbonization in maritime logistics.
Designed by Crowley Engineering Service, the tugboat will serve the Port of San Diego in partnership with federal and state agencies. The eWolf – named in homage to Crowley's first tug, the Sea Wolf – embodies our pioneering role in the U.S. tugboat service as we embrace our responsibility to protect the environment with our partners in federal, state and local government.