Management System Overview
Each company in the Crowley family places the highest emphasis on individual safety, security, environmental protection and customer satisfaction. Our Management System processes ensure a safe, secure and healthy workplace; protection of the environment and quality service for our customers. This system is critical to our performance and upholding it is the responsibility of all employees.
How we fulfill expectations:
Operate our vessels and facilities in compliance with regulations and best practices.

Promote the health, safety and security of our employees, while ensuring the safety and security of our vessels, equipment and facilities.

Continually improve Environmental Stewardship through pollution prevention and protection of the environment.

Manage operations through a continual improvement process.

Provide safety, security environmental and quality objectives.

Provide services to our customers in conformance with management system processes.

Ensure that the job is done right the first time, every time.
CONTINUAL IMPROVEMENT PROCESS
The Continual Improvement Process is how we achieve ever-increasing levels of operational performance and customer satisfaction.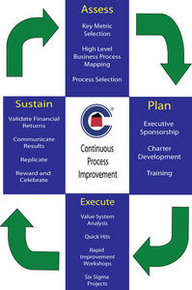 The concept is based upon the premise that in order to meet and exceed customer needs a company must continually improve. The Crowley steps of continual improvement are:
1) Assess
2) Plan
3) Execute
4) Sustain
The Achievement of ISO registration helps to document Crowley's Commitment to continuous improvement. By optimizing key processes and recording the procedures necessary to meet our customers' requirements, Crowley strives to deliver on our service commitment of "First Time, every Time" quality.