Crowley Expands Wreaths Across America Sponsorship to Commemorate Veterans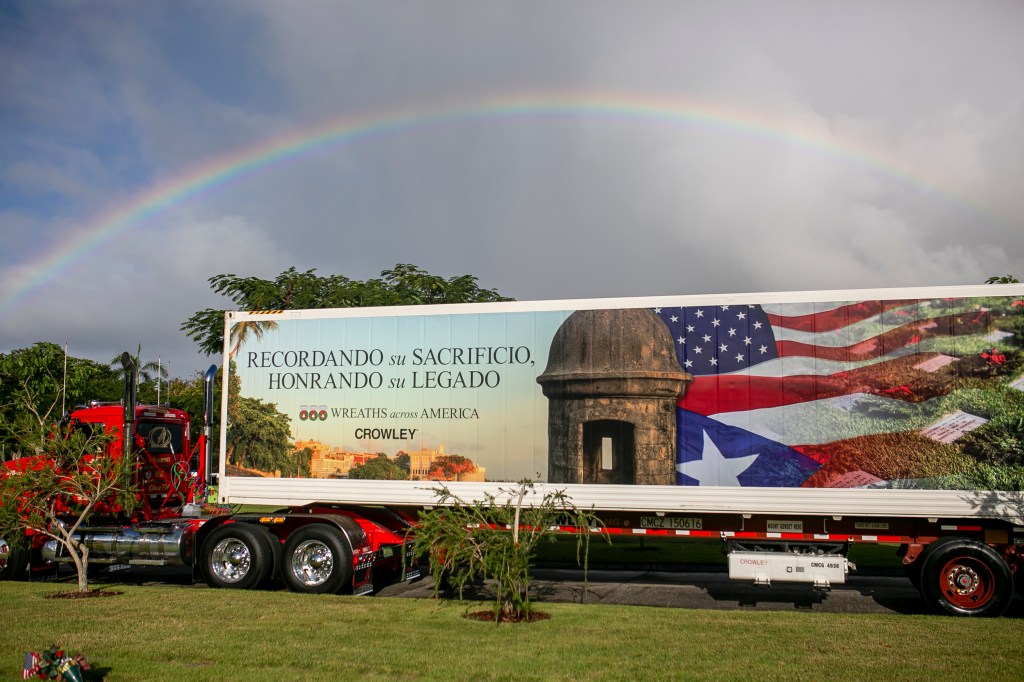 In its fourth consecutive year of sponsorship, Crowley has expanded its support of Wreaths Across America to honor veterans on the U.S. mainland and Puerto Rico.
The company will again serve as the primary sponsor for the non-profit organization's Puerto Rico wreath-laying ceremonies Dec. 17 honoring the U.S. veterans laid to rest there. New this year, the company's government supply chain group in Eddystone, Pennsylvania, will support Wreaths Across America programs there – joining its Solutions and Logistics teams in Jacksonville, Florida, and San Juan, Puerto Rico, to honor veterans.
Through in-kind logistics services and donations totaling more than $40,000, Crowley will provide ground and ocean transport for thousands of wreaths to be carried from Maine to national cemeteries. Crowley employees, as part of the company's Crowley Cares philanthropy program, will serve as volunteers in Eddystone, Jacksonville, and Puerto Rico at the community ceremonies coordinated by Wreaths Across America volunteers.
"This partnership is our grateful opportunity for Crowley and our partners to thank men and women who served our country as well as the dedication and sacrifices by veterans, active-duty military and their families make every day," said Wally Gonzalez, Director, Business Development, Supply Chain Management for Crowley Solutions, the company's government services business unit. "We are proud to be able to contribute to Wreaths Across America to help fulfill their mission and reinforce our commitment to warfighter service and support around the world."
Collaborating to honor as many veterans as possible, industry partners Caribbean Produce Exchange, Inc., and Gallery Shipping in Puerto Rico and PSA Penn Terminals in Eddystone have joined Crowley by sponsoring wreaths for their respective locations. The companies' efforts will continue through the Dec. 17 ceremonies to ensure the veterans of Puerto Rico – and across the nation – are honored. People and businesses may sponsor wreaths and sign up to volunteer for Wreaths Across America by visiting this site: http://www.wreathsacrossamerica.org/crowley.
"The joint participation of our San Juan, Jacksonville, and Eddystone teams, with our partners in those markets, demonstrates our steadfast commitment to serving the people of Puerto Rico. Being joined by Caribbean Produce Exchange, Gallery Shipping and PSA Penn Terminals to honor veterans in Puerto Rico, Jacksonville and Philadelphia reinforces our appreciation for veterans and their families," said Crowley's Salvador Menoyo, vice president, Puerto Rico and Caribbean logistics. "We are proud to share in this mission and look forward to laying wreaths in December to remember the legacies of so many heroes."
Wreaths Across America is a nonprofit organization whose yearlong mission is carried out in part each year by coordinating wreath-laying ceremonies at thousands of veterans' cemeteries and other locations in all 50 states and beyond. Crowley not only supports the organization's mission by sponsoring veterans' wreaths, but by also encouraging those who work for the company to volunteer, get involved and honor the sacrifice of veterans and their families both in their local communities and throughout the country.
"The veterans we honor committed themselves unselfishly at the most critical moments in our nation's history," said Karen Worcester, Wreaths Across America's executive director. "The generous support of Crowley and their partners ensures that we will be able to fulfill our mission in remembrance of these brave men and women laid to rest in Puerto Rico."
Shipping & Logistics Announcements
Terminal Escort Fee and Seal Fee at Port Everglades and Jacksonville – Updated!
We want to clarify a recent update we shared concerning Seal Fees. We aim to decrease the number of non-compliant seals on containers showing up in our terminals, which we then must replace. If you are shipping internationally, you must affix a compliant high security seal on your containers that meets the International Organization for […]
Read More
Shipping & Logistics Announcements
Terminal Escort Fee and Seal Fee at Port Everglades and Jacksonville
To Our Crowley Partners, We have some important updates to share: Terminal (TWIC) Escort Fee:Effective January 1, 2024, a $75 per instance Terminal Escort fee will be assessed to all trucks requiring an escort in line with U.S. Customs and Border Protection (CBP) requirements regarding port access under the Transportation Workers Identification Card (TWIC) regulation. […]
Read More