Eureka, Crowley Celebrate New Office to Advance Renewable Energy in California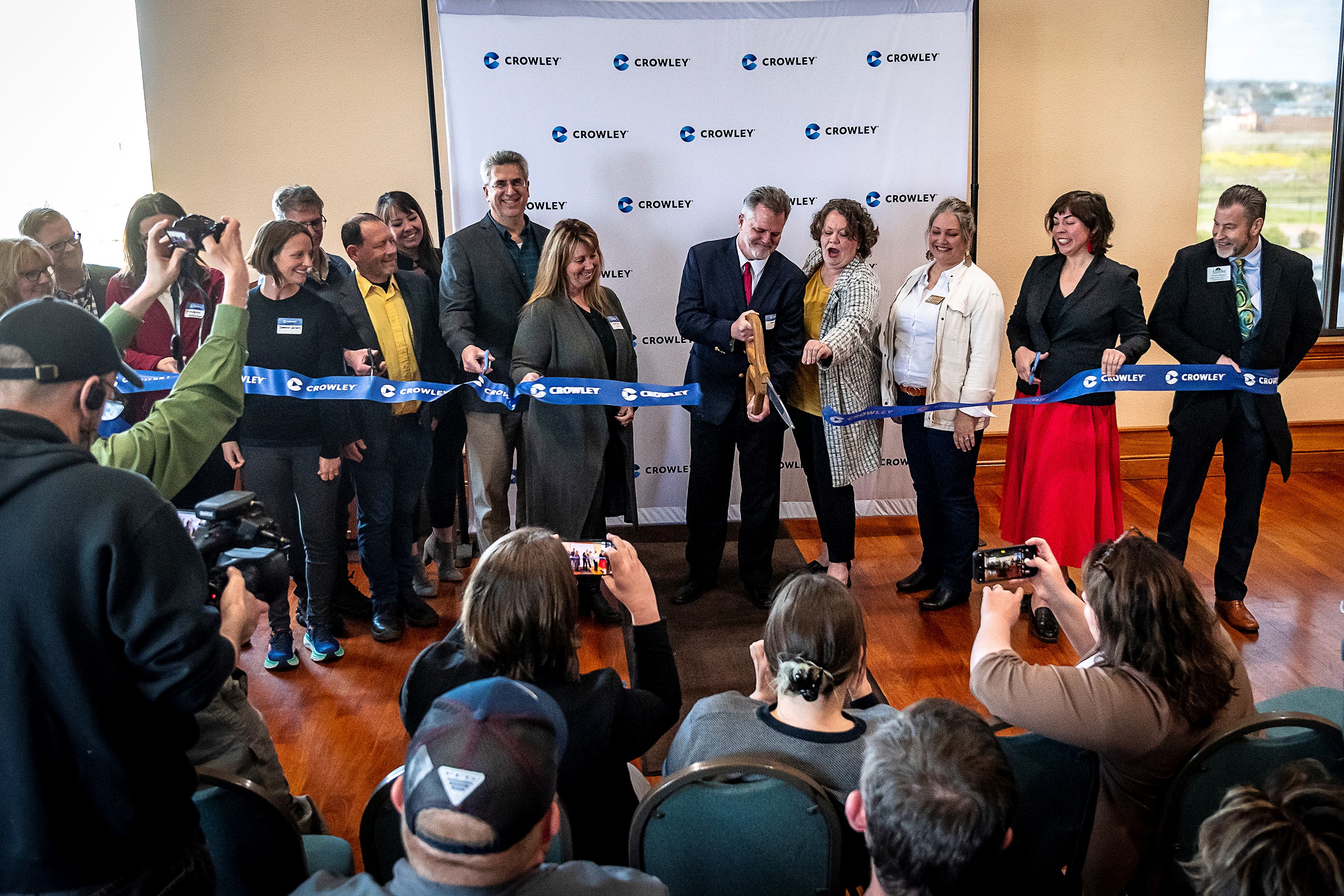 Crowley has opened its first Wind Services office on the U.S. West Coast in Eureka, California, with a community event and ribbon-cutting that included a diverse array of regional leaders on Wednesday. The new office advances the partnership with the community to develop a terminal to serve as the West Coast's first hub for offshore wind energy installation at the Port of Humboldt Bay.
"We are excited to advance our collaboration with the community to help create and support renewable, clean energy from offshore wind," said Jeff Andreini, vice president, Crowley Wind Services. "The establishment of our new office is just the start of our mutual actions to successfully invest in the region, workforce and sustainable wind energy in California. As we grow together, we are committed to achieving mutual success with the communities and people of the region."
Crowley, a global logistics, maritime and energy solutions company, reached an agreement with the Port of Humboldt Bay to exclusively negotiate to build and operate the terminal. The company office is at the Carson Building in the historic Old Town of Eureka.
"I'm pleased to welcome Crowley to our business community! I'm glad they've chosen to open a local office and look forward to engaging about our port's development and our shared economic future," said Humboldt County Supervisor Natalie Arroyo for District 4.
"We are excited about the opportunities Crowley brings to the table — living-wage jobs, opportunities for local businesses to engage with them, and economic development for our community overall," said Nancy Olson, president and CEO, Greater Eureka Chamber of Commerce. "In our early interactions with them, we've already found them very engaged and truly committed to being a vital asset to the Humboldt region. It is with true enthusiasm that we welcome them to town!"
Services at the Humboldt Bay Offshore Wind Heavy Lift Marine Terminal will support tenants in the manufacturing, installation and operation of offshore wind floating platforms, the use of large heavy cargo vessels and provide crewing and marshalling services in the Pacific waters.
"Port development can be a significant driver of job creation and economic prosperity for Humboldt County. Enhancing our port will create a range of employment opportunities, i.e., from construction jobs (during the building phase) to long-term employment for port operations, maintenance and logistics, said Scott Adair, director of economic development, Humboldt County. "In addition, a modern port will help our community to attract port related industries and projects which will further stimulate our local economy. This is why we welcome Crowley as an important partner in Humboldt County's strategy for developing workforce and economic opportunity, which is centered around port activity."
With federal and California setting goals to generate renewable energy from offshore wind, the U.S. Bureau of Ocean Energy Management successfully awarded leases in December for five lease areas covering 373,268 total acres off the coast central and northern California. The Crowley-Humboldt terminal would support the personnel and services necessary to supply turbines and equipment as well as maintain the installations once operational. The leased areas have the potential to produce over 4.6 gigawatts of offshore wind energy, enough to power over 1.5 million homes.
"The partnership that Port of Humboldt Bay has with Crowley will facilitate the first commercial scale fully assembled floating offshore wind platforms off California and position Humboldt Bay as the primary offshore wind port on the west coast," said Larry Oetker, Executive Director of the Port of Humboldt Bay.
Committed to reach net-zero emission and leading sustainability in its industries, Crowley is also developing and planning wind services terminals in Louisiana and Massachusetts. The company's CREST Wind joint venture with Danish company ESVAGT is building a service operations vessel (SOV) for Coastal Virginia's major wind energy project in addition to Crowley providing feedering vessel services and other supply chain solutions.