Logistics
Hispanic Women Defying Bias in Logistics and Technology
Our industry is known for its competitiveness and the historical dominance of men in leadership. As diversity, equity and inclusion become more critical to providing sustainable solutions for customers, partners and our planet, we've seen the transformation not just in our own organization but also in companies worldwide. And women are spearheading this effort – and have been for a while.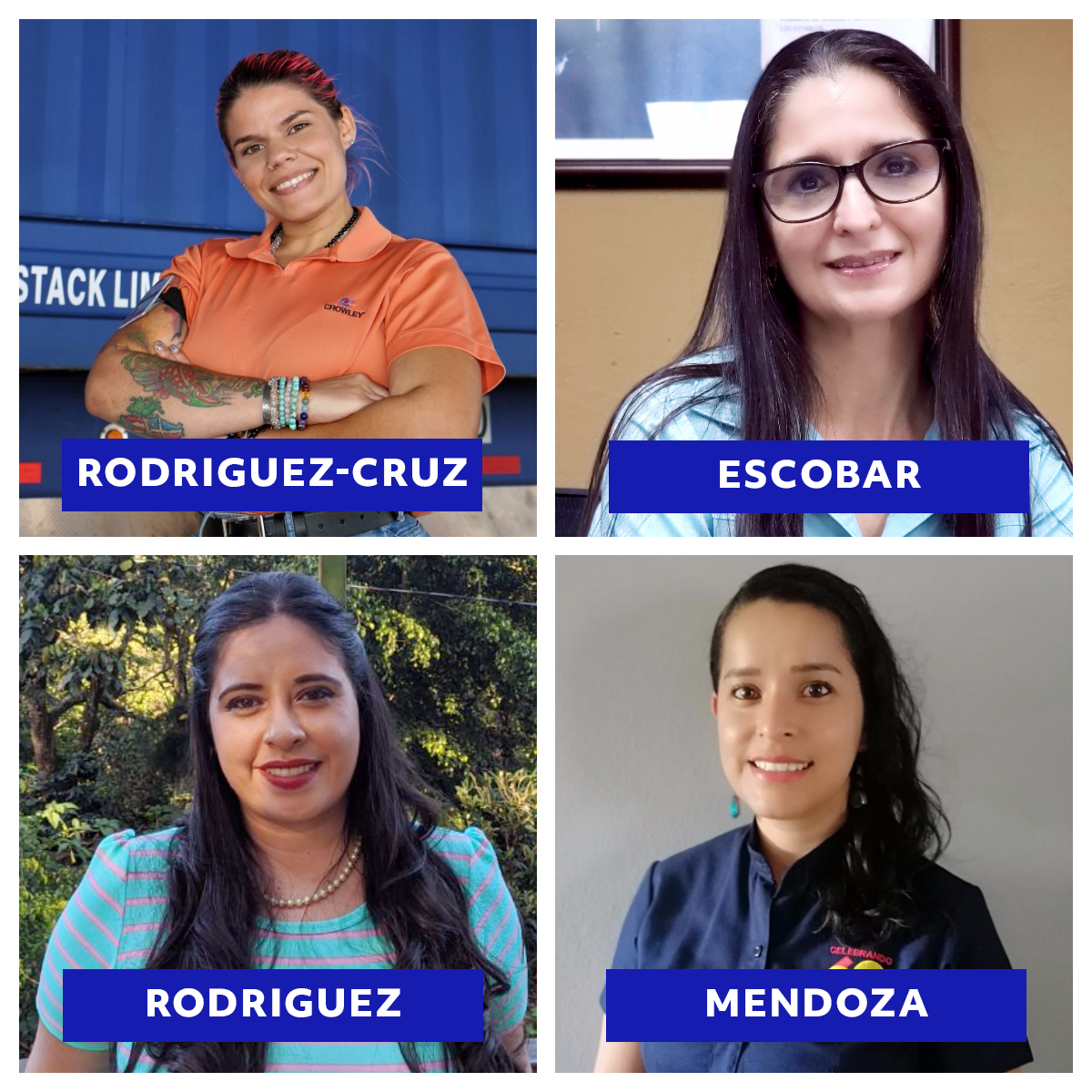 Career advancement, however, can be tough for women, who are underrepresented in logistics, transportation or technology fields and it can be much more daunting if they're part of another ethnic or racial group. Crowley's relationship with Hispanic regions goes back more than 60 years, and Hispanic women have contributed to our improvement, success and community presence. This, however, doesn't mean it has always been easy. In this blog, we explore the perspective of Crowley leaders who have experienced biases in their careers but choose not to be defined by them.
Andrea Rodriguez-Cruz – Supervisor, Warehouse (Puerto Rico)
Giesy Escobar – Manager, Land Operations (Honduras)
Susana Rodriguez – Project Manager (El Salvador)
Jennifer Mendoza – Supervisor, Customs (Costa Rica) 
Looks Can Be Deceiving
Escobar: Starting my career in the operations area 20 years ago was challenging, as the department I wanted to join wasn't used to hiring women. I knew about this, but that did not stop my desire to pursue the position. I felt I was the right person for it. Some people thought I wouldn't last because they saw my appearance that of a "weak" woman (I'm tall and slim), but the Spanish saying of "las apariencias engañan" (looks can be deceiving) became true for me. I started by managing spare parts in the warehouse, lifting from light to heavy pieces. This work did not scare me. I slowly gained the respect and admiration of everyone around me.
After four years, I was promoted to operations supervisor, where I was again against all odds. At the time, it was not easy for some men to have to work and much less report to a woman. Today, I manage 30 transport companies and about 300 drivers. I have earned their respect and admiration through my work, unwavering character and leadership. Every day, I receive calls from drivers where I support them and help solve their problems on the road or in customer facilities. I'm honored to be there for them and receive their thanks. Together, we're creating value for our entire service chain.
Rodriguez-Cruz: My experience working in a predominantly male-dominated field has been challenging but has brought growth. As a leader, I can tell that seeing a woman in charge of a managerial position is often difficult to assimilate for some. Women are stereotyped as "too gentle" or "too weak," but I've never associated those words with me. In my three years at Crowley, I've been able to work in three different positions in which I have worked directly and primarily with men. My focus, character and determination have helped me take my career far and succeed in my role.
Mendoza: As a woman, having a career in logistics and supply chain is very challenging as men have strongly led it. In instances, there is little or no female participation. This has changed thanks to women's efforts to break through even when society thinks it is not viable in such a competitive market. Although we still have many paradigms and biases to break, I recognize we have advanced a lot socially.
Rodriguez: From my perspective, in project management, the integration of women has improved. However, I have realized that there is still an imbalance in technology positions. It is usual to see 80% men and 20% women in a team in this area, which makes the technology field very challenging for women. In my first work experience, I was exposed to a culture that promoted diversity and inclusion. This allowed me to become aware of existing biases and how they have been normalized. But that by recognizing them, women can have access to appropriate tools and mechanisms to break them and advance in their professional and personal development. 
Staying Firm Against Biases 
Escobar: I've been the recipient of many biases for being a woman. From people assuming I can't do the job, to men asking me what my preferred beer is before even introducing themselves. My greatest tool in these situations has been my strong character. Even if I feel fearful and doubtful inside, I remain firm to who I am. To me, it's not about being angry. It's about being strong in decisions and actions, a critical quality in this industry.
Mendoza: I have had experiences where I've felt the discomfort of others to see a woman leading or developing as a professional in this area. But this has helped me grow and improve my confidence to know that if I have managed to make my way in such a competitive world, I can continue to do so.
Rodriguez: Unfortunately, I did go through a situation of bias and discrimination for being a woman. In another workplace, after giving birth to my daughter and being on maternity leave, some peers expected me to continue working even though I was legally incapacitated and the organization had a backup to take my place during that time.
When I returned to work, I found a hostile environment directly towards me. Even though it was a painful situation, I found the strength to move forward thanks to my family, who was my emotional support network and the driving force to assert my labor rights.
Manifesting Their Career Future
Rodriguez-Cruz: I see my future as a promising one. I challenge myself more every day; I am my own competition. I envision continuing to grow in management, operations, logistics and transportation. My dedication, commitment, and hunger to learn will help me get the motivation I need to get to every place I want to go. If it is in my mind, it's in my life. I will always give my best and I believe that nothing is impossible.
Mendoza: I visualize women in my professional field and myself leading projects of great impact. Making a difference in the professional and human area, fighting to improve processes, and searching for social balance in gender equality that we need so much to move forward. Bias only makes us go backward. Whether we were born in rural areas with little access to education or economic limitations, I know from first-hand experience that we can overcome adversity and move forward.
Rodriguez: As a project manager, my biggest project is my daughter. My goal is to give her a safe environment with access to the necessary tools to develop fully in the areas she desires. Apart from that, I am committed to sharing my technical knowledge with more people through volunteer work or academic processes.
We are committed to growing the leadership and development of women within the organization. Our goal is to foster a culture that is honest to our values and champions diversity of experiences and inclusion of perspectives while encouraging innovation. We have many opportunities available where your skills, knowledge and experience can move the world forward.
OTHER STORIES THAT MAY INTEREST YOU: