Breaking Bias as a Powerful Motivator for Women
Women's leadership is more essential than ever to our company's innovation and vision. Women's History Month celebrates their contributions to the world. Energy, logistics, shipping, government solutions, on land or sea, it doesn't matter what service you got from us – women are key players at Crowley to make it happen.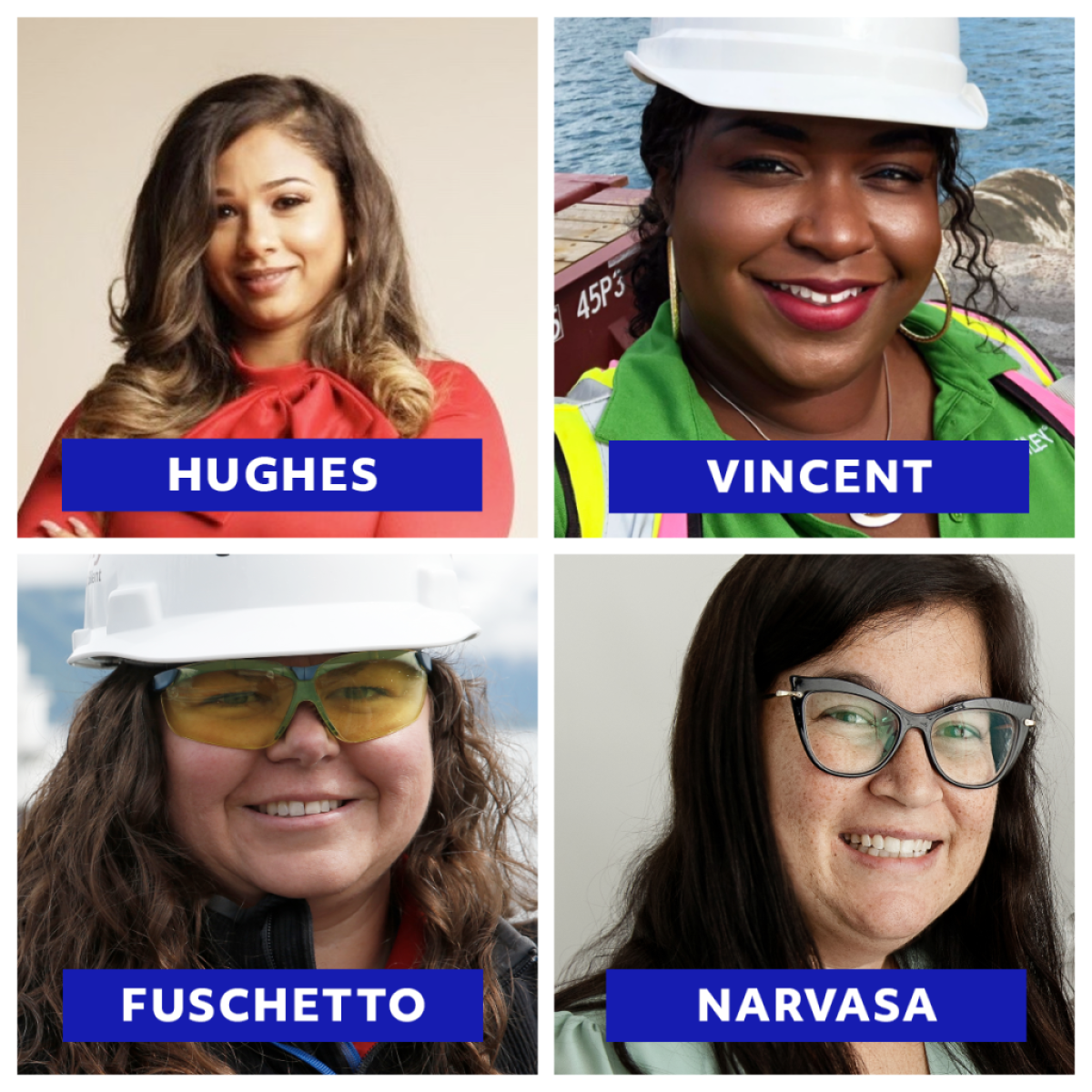 This year, Crowley's Women Empowered, an employee resource groug (ERG) set the theme for the month to be #BreakTheBias. As part of our refined purpose and values, they encourage others to help forge an inclusive and equitable planet and workplace. Whether deliberate or unconscious, biases can make it difficult for women or anyone to move ahead in their careers or personal life. Four leaders at Crowley shared their experiences and guidance to help people understand where they've come, and how they move forward.
Angie Fuschetto – Manager, Marine Affairs
Jennifer Narvasa – Port Captain
Krystal Hughes – Senior Specialist, Transportation
Kishma Vincent – Director, Cargo Operations
Work In Progress
Ignoring the fact that people in our industries, which are historically male-dominated, still fight bias can be a disservice to women who are leading and helping others to grow.
"I graduated from a maritime academy that was roughly 10% women, and during my seagoing career, there were numerous times when I was the only female onboard the vessel. At first, it was slightly intimidating, but soon it became a motivating factor for my success. My shipmates became my biggest supporters and they pushed me to rise through the ranks. They wanted to see a female take charge and smash through the biases that existed in the maritime industry. It's refreshing nowadays to see so many women taking the lead, onboard the vessels and in the offices."

FUSCHETTO
"It can be a challenge to adjust and 'fit in' to a male-dominated industry as a woman. What I've learned over the years is that women have a place in all industries. Our opinion, expertise, perspective and passion all add value to the betterment of any sector. For me, it is motivational to be a woman in a male-dominated industry. Although I am not considered as a trailblazer, I take pride in continuing to make the path for other women to diversify the transportation field and show everyone 'We Can Too.'"

HUGHES
"I am not the only woman to hold the role of director of cargo/terminal operations at Crowley, but I am the first of African-Caribbean descent. I admit I felt a bit intimidated having to lead a team of men, but they are extremely supportive and respectful. My community sees me as a role model for young women, so I encourage anyone I encounter to follow their dreams and stay focused on their goals."

VINCENT
Balance it's not the same for every woman
"I have stopped believing in perfect balance between life and career. It's more like a moving wave for me, with highs and lows. I consider being a port captain and a mother of two children my 24/7 jobs. However, priorities can shift from time to time, where I need to focus exclusively on one or the other." – Narvasa
"It's hard to find balance between life and career because I am so passionate about what I do. However, after losing my dad recently, I am reminded that while I am grateful for an awesome career, making quality time for children, family and loved ones, including myself, is imperative and will only make me better and more productive mentally and spiritually." – Vincent
"I have finally found the right balance between life and career, but it wasn't always that way. After I stopped sailing and started working shoreside, I focused solely on my career, much to the detriment of my personal life. It took a 4,000+-mile move to rural Alaska to realize that although my career is important, making my personal life a priority is even more important. I find I'm more productive and happier at work when life is balanced." – Fuschetto
Thoughts for allies who want to break bias
There's no denying what giant role allies play in the success and advancement of women when it comes to equality and equity. So, what works best for supporters who want to change bias involving women?
"Treat women as you would any other team member. Speak up if something seems off."– Narvasa
"Unconscious bias can be present at all levels of employment. I consider it imperative that stakeholders identify possible bias at an early stage of interaction. One way is to always consider diversity, inclusion and ethical decisions that align with a company's core values." – Hughes
"Avoid making assumptions. Just because a woman may have a young family does not mean she is not capable of doing a great job. I was a single mom of two boys when I started at Crowley, but I had a great support network. Crowley took a chance on me, 19 years later… here I am." – Vincent
With career growth comes wisdom
Our leaders reflect on advice to their younger selves. All are still as relevant as ever.
"Let your work speak for itself, and it will break down barriers. Have confidence in yourself and conviction in your decisions."

NARVASA
"Be fearless, strong, graceful, confident and never take no for an answer. Don't be afraid to fail – failure opens the doors to success."

VINCENT
"Don't be scared. Break through those biases enough times and they will eventually cease to exist."


FUSCHETTO
Note: This interview has been edited and translated for brevity and clarity.
We are committed to growing the leadership and development of women within the organization. Our goal is to foster a culture that is honest to our values and champions diversity of experiences and inclusion of perspectives while encouraging innovation. We have many opportunities available where your skills, knowledge and experience can move the world forward.
OTHER STORIES THAT MAY INTEREST YOU: