Integrity has been a consistent core value at Crowley and is the cornerstone of our approach to governance and ethics. Our employees demonstrate integrity every day through maintaining a safe and inclusive environment. We engage with all stakeholders transparently to ensure positive working relationships. We go beyond compliance in our risk management approach to ensure we operate ethically and live up to our purpose as a company. Our leadership guides these aspects and more, steering our sustainability strategy and embedding it throughout our business.
Structure & Leadership
Our governance structure underpins our approach to sustainability. We have a four-member Board as well as a senior leadership team, led by our Chief Executive Officer and Chairman, Tom Crowley, who are ultimately responsible for sustainability strategy, risk and opportunity. The Vice President and the Director of Sustainability are responsible identifying key areas of climate-related risk and opportunity as well as setting corporate sustainability strategy, targets and KPIs, with the Vice President reporting to the senior leadership team. Each business unit has leadership and programs supporting sustainability as well.
This year, we established our Sustainability Steering Committee (SSC), a multi-stakeholder group of Crowley leaders at the C-suite, Senior Vice President, Vice President and Director levels. Co-chaired by the Chief Operating Officer, Chief People Officer and Chief Legal and Risk Officer, all members of the senior leadership team are involved in the committee. In addition to oversight, the SSC shapes our sustainability strategy related to all facets of environmental, social and governance issues, and ensures that our sustainability objectives are embedded across our company.
The SSC is charged with:

• Driving success in achieving our bold sustainability ambition across the organization.

Leading the design and execution of our sustainability strategy.

Monitoring progress of Crowley's sustainability initiatives.
Sustainability Team
In addition to the SSC, we have assembled a sustainability team with a passion for collaboration. They are driving resiliency by sparking change and catalyzing conversations. This team is charged with spearheading the development and successful execution of our sustainability strategy across our day-to-day operations. But our commitment to sustainability extends throughout the organization. We have realigned our core purpose and values to complement our ESG ambitions, so sustainability is now a guiding principle within Crowley. It is the responsibility of each member of our team to carry through our ESG initiatives across the business.
Q&A with Our VP of Sustainability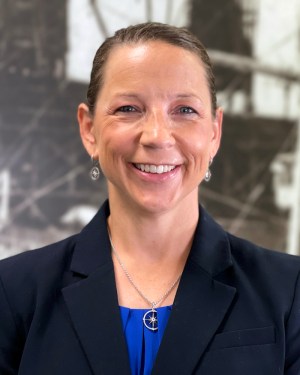 Alisa Praskovich, PMP, CPE
VP of Sustainability
Crowley
Taking a full ESG lens approach to this answer, I would say that, on the E side, you will see more vessels on the water in 10 years powered by alternative fuels such as methanol, hydrogen, ammonia, renewable natural gas and blends of bio or renewable diesel, for example. These zero or low-emissions vessels will be transporting people and goods into increasingly electrified and automated ports.
I would also add autonomous vessels to fleet, operating on designated shipping routes across the globe, and moving cargoes and passengers to and from the world's busiest ports. On the Social side, you will see a more diverse, equitable and inclusive workforce using the latest technologies to make their jobs more efficient with real-time metrics reporting back to data centers for both customers and decision makers within the company.
As far as Governance is concerned, you will see robust climate risk modeling and fully mature operational resilience plans to make sure key business operations continue to function smoothly and efficiently. Physical and transitional climate risk will only continue to increase dramatically in the next decade. To keep the world's goods and commodities moving and preserve international economic stability, our industry will need to be ready.
In the short term, Crowley's primary challenge will be data – both automation and digitization. As a portfolio-based, global company operating in more than 36 countries and island territories with more than 5,600 full-time employees as well as hundreds of vessels, trucks and facilities, we must digitally transform and automate our ESG data. Rather than getting bogged down in manual compilation of ESG data year after year, Crowley will need substantial investment in both our people and in technology.
This is why Crowley is leveraging automation tools such as the Salesforce Net Zero Cloud, establishing deep partnerships across our entire value chain and investing in our people to build a workforce that is well-versed in data science, analytics and cloud computing. Ultimately, Crowley needs to produce real-time ESG data to drive decision making and accurately gauge our progress.
Crowley is investing heavily in its workforce, including those we hope to recruit in the future. This is why Crowley has established a world-class partnership and endowment with the University of North Florida's Coggin School of Business to create the Crowley Center for Transportation and Logistics. To establish talent pipelines as far upstream as possible. While investing heavily in upskilling our workforce in the digital skills of the future, Crowley can't afford to neglect equally important skills and knowledge – especially as they apply to such crucial concerns as emerging climate-related environmental and financial regulations, greenhouse gas accounting, ESG reporting, zero or low-emission alternative fuels and the latest marine propulsion technologies.
The lines between ESG expectations for public and private companies are becoming increasingly blurred. Crowley should expect to be held to the same standard when it comes to ESG, whether by investors, insurers, customers or employees. This means taking a fresh look at our governance structure and how Crowley manages enterprise risk. With our topmost issues focused around GHG reductions, talent, diversity, employee safety and innovative customer solutions, Crowley will need to implement strong governance structures to provide strategic direction and instill accountability. For this reason, in 2021 Crowley established a Sustainability Steering Committee (SSC) whose membership includes the company's most senior leaders.
The SSC is committed to taking action and instilling accountability across the entire enterprise to include our foremost material ESG issues. Looking to the future, Crowley will foster a broader and more structured organization around enterprise risk that will incorporate emerging threats such as cyber, far-reaching regulations and the physical and transitional elements of climate risk.
Crowley has set forth a goal of net zero by 2050 across all emission scopes aligned with 1.5 °C science-based target goal. This commitment must be met with equal action and ambition from our stakeholders and customers. Reducing our Scope 1 emissions will result in direct Scope 3 emission reductions attributable from our customers' supply chains.
Crowley is also committed to deep engagement with our vendors and suppliers throughout our entire value chain. The company wants to work closely with them to determine where mutual goals around ESG can be met. This will include globally recognized value chain evaluation tools, as well as a review of Crowley's Supplier Code of Conduct and other terms and conditions, to foster better alignment around sustainability and inform vendor selection in the future. I overheard at a national shipping conference recently that "collaboration is the new fuel." I couldn't agree more.
Building Relationships with Key Stakeholders
Shipping is the most efficient means of transport, and we are working to make it even better. As a global logistics, government, marine, and energy solutions company, we work with suppliers to create value for our customers and communities by offering tailored supply chain solutions that get goods and services where they need to go.
Since each of our stakeholders has their own unique sustainability goals, we have an active dialogue with key groups to see that their priorities are reflected in our strategy. This non-exhaustive list demonstrates some of our collaborative efforts and ways we engage.
Stakeholder Group
Engagement Approach

We engage with our customers via surveys, data sharing, partnerships and through our customer support. We provide an elite standard of service built on decades of experience in logistics, shipping, and supply chain management. We are committed to responsive and responsible operations, and we are adapting our solutions to help customers reduce GHG emissions in their supply chains.
---

We engage with our suppliers via our code of conduct, surveys and our supplier portal. We are currently building a program to ensure products and services are sourced in a socially and environmentally responsible way, while expanding the use of diverse suppliers, according to Small Business Association (SBA) guidelines, across the organization to ensure Crowley maintains a reliable, sustainable supply chain.
---

We engage with our community via volunteering and philanthropy as well as expanding our education and recruiting pipelines. Our employees receive 16 hours of Volunteer Time Off (VTO), participating in community-based efforts throughout North and Central America and the Caribbean during the year. Additionally, we give philanthropically through our Crowley Cares Foundation, donating nearly $200,000 in 2021.
---

We engage with regulators via one-on-one interaction, trade associations, and partnerships. We are committed to working with state, federal, and international regulators to help establish regulatory frameworks and future standards for fuels and vessels of the future, as well as advancing public-private partnerships to move from piloting new technology to widespread implementation.
---

We engage with industry groups through memberships, partnerships and coalitions. Industry groups are key for sharing knowledge and collaborating for the future. We are active members of many groups to advance the shipping and logistics industry including the World Shipping Council, of which Tom Crowley sits on the Board, and the Blue Sky Maritime Coalition, of which Crowley was a founding member.
Join Us
If you want a career that is challenging, energizing, and rewarding, we hope you will consider joining our team as we continue to provide exemplary and innovative services worldwide.
Resources
Click below to download our 2021 sustainability report and ESG disclosures.