Black Talent in the Transportation Industry
Black talent has been instrumental in the development and success of careers in the transportation industry. From Dr. Gladys B. West, who played a vital role in the invention of GPS, to Frederick McKinley Jones, who revolutionized the shipping of perishable food with his portable air conditioning unit, Black innovators have left a lasting impact on the industry.
Black workers continue to significantly impact the maritime industry, paving the way for future generations — including two of our own, Jacqueline Myles, a senior traffic specialist, and Erica Redding, a manager of equipment control, both of whom have had long and impactful careers at Crowley.
Coming and Staying in the Supply Chain Industry
"At first, it wasn't the industry that attracted me as it was new. It was what Crowley offered, like stability – everyone in my department was already with the company for years, with no signs of wanting to leave," said Myles.
Over the years, she has seen the industry transform, with an increased focus on inclusion and gender diversity. "Crowley company policies, like equal opportunity employment, elevate our people. I'm excited to satisfy our customers' needs and anticipate changes as we progress."
Redding has also been with Crowley for 25 years and has seen the industry evolve and become more efficient with the help of technology. Initially, she was intrigued by Crowley's unique services: "I had no knowledge of anything regarding the supply chain industry. However, I've remained here because it is demanding and very rewarding. Crowley highlights both teamwork and a sense of community. Here, I found flexibility and endless opportunities."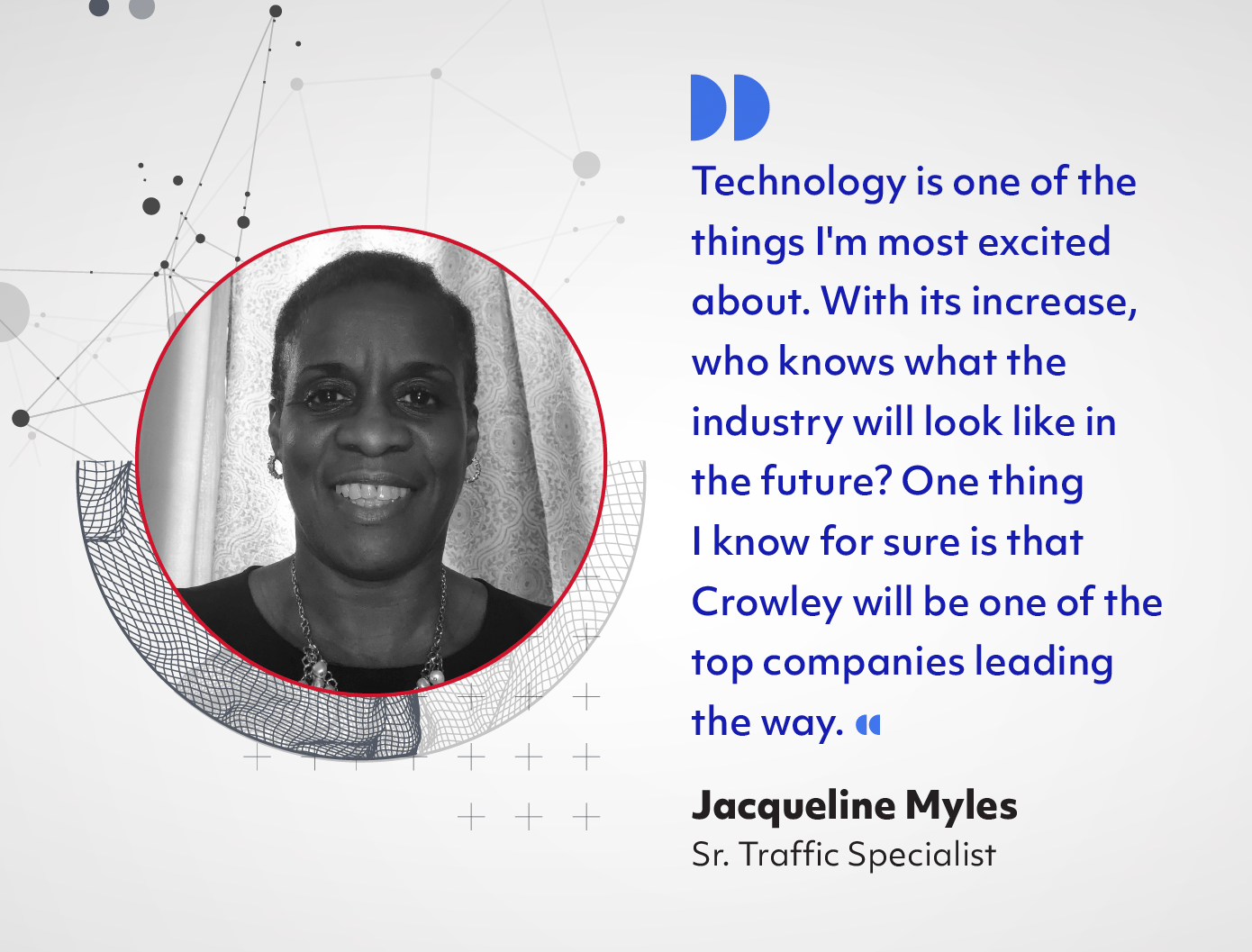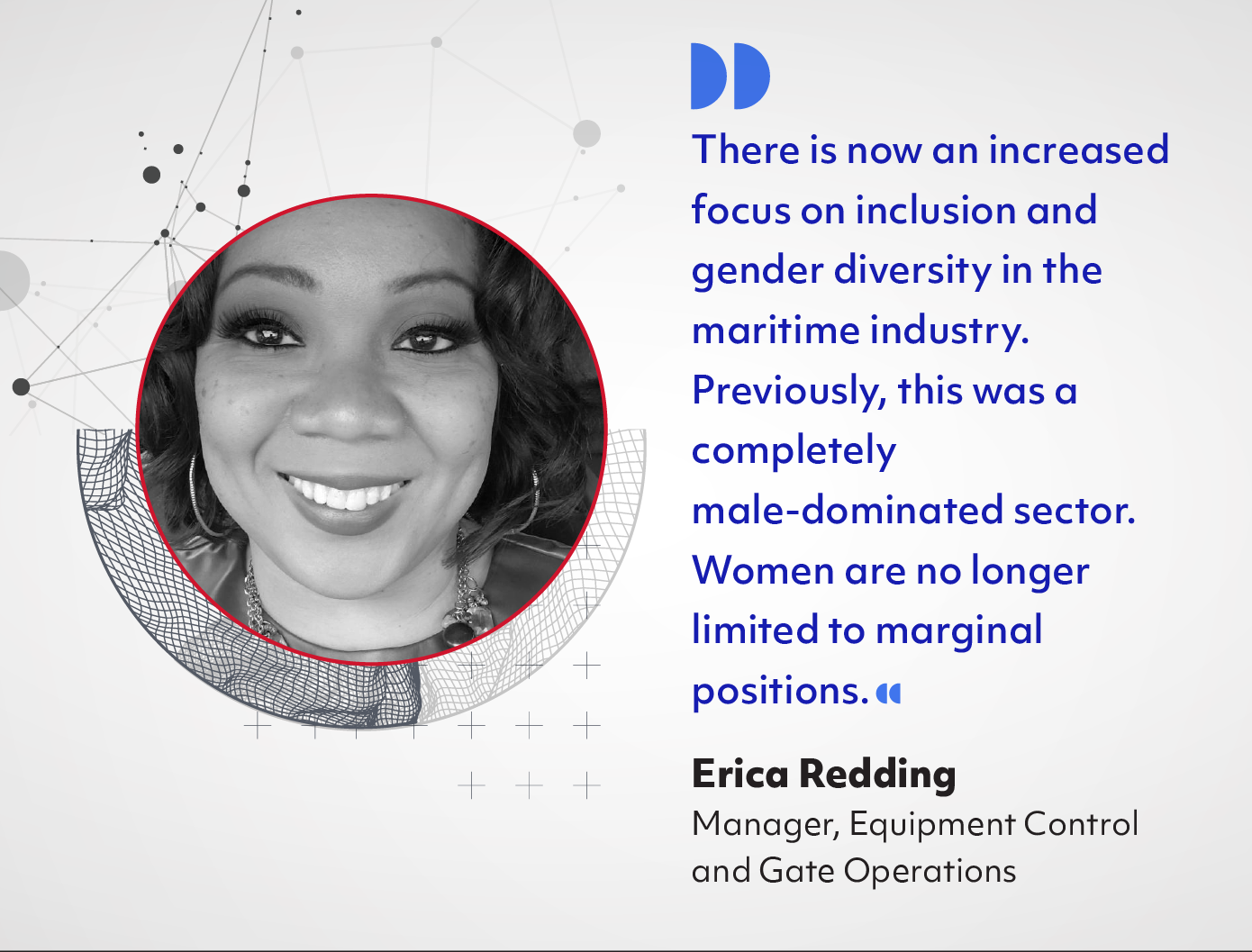 Changing For the Better
With 24 years in our company, Myles has seen a lot of changes coming and going. For her, one of the most outstanding ones comes from the supply chain. "I've seen logistics companies like Crowley moving away from using barges and replacing them with ships, resulting in faster transit times. For example, a person relocating from Jacksonville to Puerto Rico now can get door-to-door service in just a few days".
Redding thinks the change in the industry is more noticeable as diversity, equity and inclusion become areas of focus to make workplaces better, "there is now an increased focus on inclusion and gender diversity in the maritime industry. Previously, this was a completely male-dominated sector. Women are no longer limited to marginal positions. We are now taking on unconventional roles and flourishing."
Technology As a Way Forward
Both agree that tech is a force elevating the industry to new heights. "The elevation of technology and the use of LNG to fuel ships are evolving our industry, as this fuel is better for the environment and the longevity of ships. Innovative and better technology will continue to drive efficiency and help reduce stress levels from manual work," said Redding.
For Myles, the improvement in technology is remarkable, "The way information is transmitted electronically now is incredible. Truck drivers don't need to return to the office daily to drop off or pick up the paper log sheet. Dispatchers can track trucks and advise arrival times, helping customers and suppliers to be more prepared, which results in shorter turnaround times. Reefer systems allow technicians to stay aware of the temperature of reefers on and off the vessel. It seems normal now, but it took time to get here."
These improvements enable an exceptional consumer experience and improve company efficiencies, allowing more investments into sustainability and technology. Myles reflects, "With the increase in technology, who knows what the industry will look like in the future? One thing I know for Crowley will be one of the top companies leading the way."
Growth and Progress
The transportation and maritime industries have contributed significantly to the world's growth and progress. Black talent contributions have been integral to that success. We look to the future and share the excitement to see and participate in the continued advancements in technology, the use of LNG fuel and other sustainable alternatives, and the increased commitment to diversity and inclusion.
Whether serving as a mariner, supporting land operations or pioneering in tech, the supply chain industry has a lot to offer to grow and develop talent to push the boundaries of what's possible. We are proud to have Black team members who contribute to making our industry what it is: essential to people's lives.
---
We are committed to growing the leadership and development of Black talent within the organization. Our goal is to foster a culture that is honest to our values and champions diversity of experiences and inclusion of perspectives while encouraging innovation. We have many opportunities available where your skills, knowledge and experience can Carry the World. Forward.
OTHER STORIES THAT MAY INTEREST YOU:
Shipping & Logistics Announcements
Terminal Escort Fee and Seal Fee at Port Everglades and Jacksonville – Updated!
We want to clarify a recent update we shared concerning Seal Fees. We aim to decrease the number of non-compliant seals on containers showing up in our terminals, which we then must replace. If you are shipping internationally, you must affix a compliant high security seal on your containers that meets the International Organization for […]
Read More
Shipping & Logistics Announcements
Terminal Escort Fee and Seal Fee at Port Everglades and Jacksonville
To Our Crowley Partners, We have some important updates to share: Terminal (TWIC) Escort Fee:Effective January 1, 2024, a $75 per instance Terminal Escort fee will be assessed to all trucks requiring an escort in line with U.S. Customs and Border Protection (CBP) requirements regarding port access under the Transportation Workers Identification Card (TWIC) regulation. […]
Read More