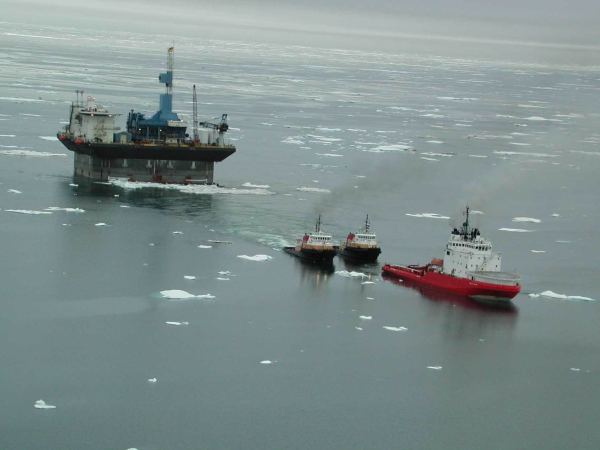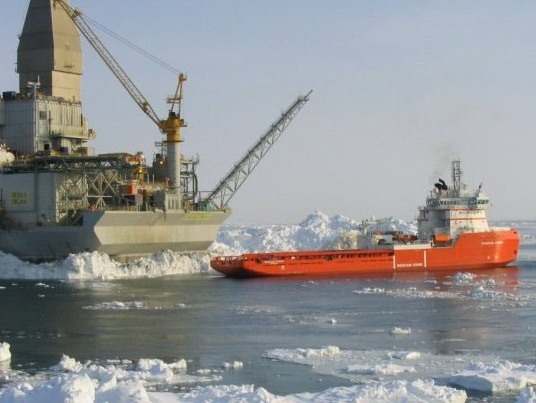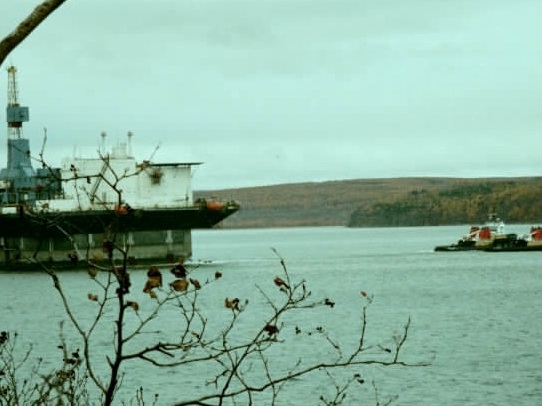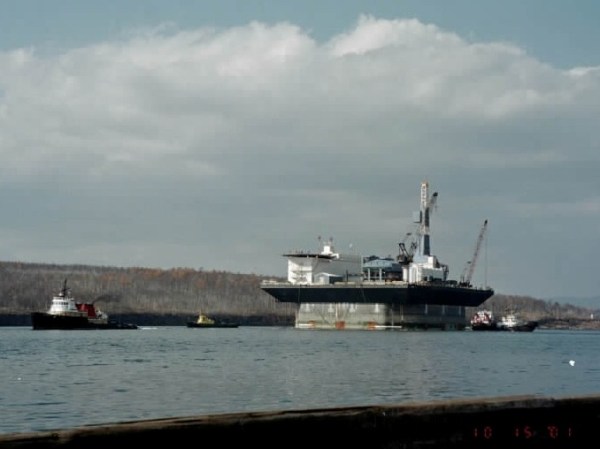 On three separate occasions, Crowley successfully towed Orlan, a 312-foot concrete island drilling structure (CIDS), for drilling projects in Russia. The Orlan has a 34-foot draft and consists of four basic components – a steel mud base, a concrete brick caisson, and two steel deck barges on which the drilling rig, support equipment, and quarters are mounted.
Pulled by two Crowley Sea Victory class 7200 BHP, twin-screw, oceangoing tugs, and a third arctic-ice management tug, the first tow in 2001 moved Orlan from its stack site near Northstar Island, off Prudhoe Bay, Alaska, to Sovetskaya Gavan, Russian Federation. This relocation facilitated modifications to the structure as part of the Sakhalin 1 project in offshore Russia.
Crowley towed Orlan again in 2004 to Ulsan, South Korea, with two Sea Victory class tugs and a 19,000 BHP Smitwijs ocean tug, the Wolraad Woltemade, where she was outfitted as an offshore oil drilling and production platform. When the outfitting ended, Crowley performed the final tow with the same fleet back to Russia – this time to Sakhalin Island – in the summer of 2005.
Because Sovetskaya Gavan was an ex-military port, it had been closed to all foreign flag vessels. The initial tow in 2001 represented the first set of U.S.-flagged or foreign ships to enter the port. This inaugural visit brought language and communication challenges, in addition to being put in a position of working with a diverse international group of subcontractors for towing, assist work, anchor handling, engineering, surveying, positioning and other marine services.
The tugs and Orlan also had to navigate through difficult waterways from Alaska to Russia, and between Russia and South Korea, and back, to avoid ice and structural damage.
Though no other U.S.-flagged company had entered the ex-military Sovetskaya Gavan port before Crowley, our expertise allowed for a seamless entry – including effectively managing any language differences and providing oversight and coordination of the subcontractors' efforts.
For the first tow, Crowley engaged the use of a third tug, the 23,200 BHP Arctic Kalvik, which performed arctic-ice management services in addition to towing. As a certified Ice Class Lloyds +100 A1 Arctic class 4 tug, the Arctic Kalvik was particularly advantageous because of its high-bollard pull and ice-breaking capabilities, and because it was well-equipped with arctic and ocean-towing gear.
On the tows between Russia and South Korea, Crowley employed the use of two powerful Sea Victory class tugs and the 19,000 BHP Smitwijs ocean tug, the Wolraad Woltemade.
The professional experience of our people who worked on this project was a combined 300 years. These experts ensured the safe transport and deployment of the Orlan.
Crowley specializes in providing transportation, logistics, project management, marine consulting, and risk assessment services in some of the most challenging environments in the world. From the North Slope of Alaska, to the Russian Far East, to Africa, to the deep waters in the Gulf of Mexico, Crowley has the experience, the experts and the equipment to handle any project anywhere.