Jacksonville, Fl. to San Juan, PR
Estimate: $1,140*
Looking to speak to someone right now?
Call (888) 411-6442 anytime between 8am and 5pm EST. If after hours, please use this form below for a call back.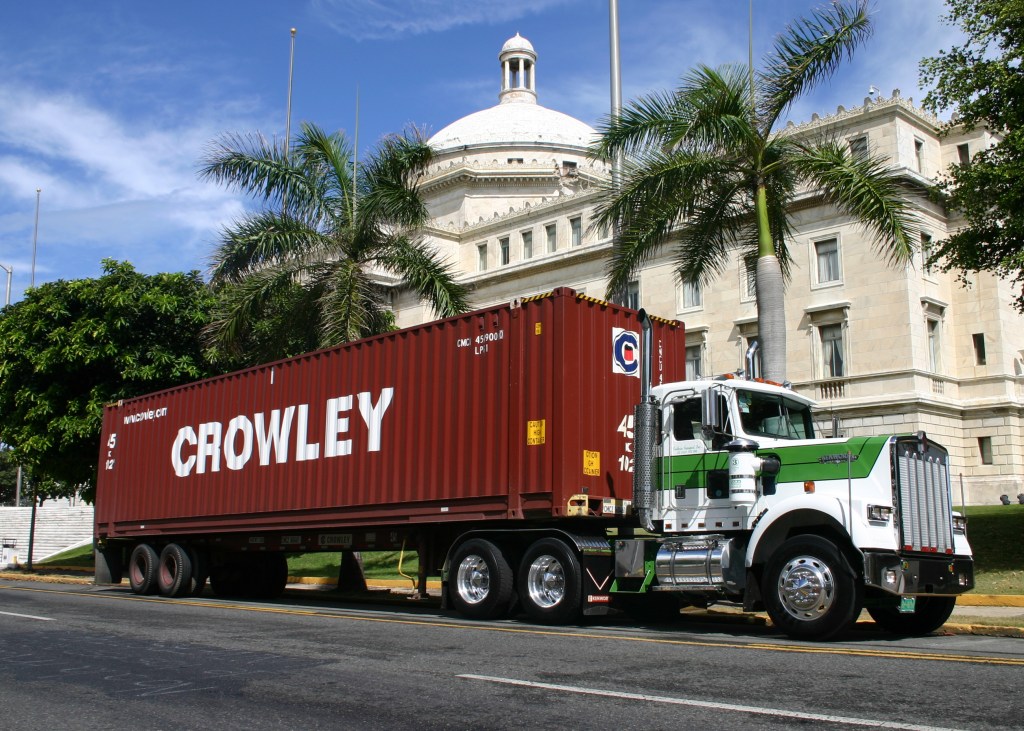 What you need to know
Vehicle will be inspected at time of delivery and must meet the following requirements:
A booking reservation must be made prior to delivery of the vehicle.
Vehicle must be delivered to port 24 hours prior to scheduled sailing time.
Vehicle should be in running condition and keys must remain with the vehicle.
Vehicle must contain ¼ tank of gas or less (if vehicle is loaded in a container, fuel tank must be drained and battery disconnected). Vehicles containing more than ¼ tank of gas prior to shipping will be charged $75 for fuel removal.
Vehicle should be clean and free of dirt and debris.
Non-running vehicles will be accepted upon approval. Additional fee will apply.
Modified vehicles are subject to rate change.
Motorcycles and ATV's are accepted to San Juan, Puerto Rico only.
No personal items are permitted inside the vehicle. The only item allowed is the spare tire and a jack in the trunk.
Instructions for Delivering to Jacksonville, FL
All required documentation should be sent to Documentation@crowley.com before arrival to the Jacksonville terminal. If documentation is not received, park in the designated parking spots for customers, and call 904-727-2475 for instructions.
Vehicles should be delivered during receiving hours.
An escort is required for vehicles exceeding 835 CFT, units not in container, oversized units and truckers delivering vehicles on car carriers without a TWIC card. An escort is provided to enter the port at a cost of $40 (payable at 904-727-2475).
More Details about our Port Terminal in Jacksonville, FL .
Instructions for Picking Up at San Juan, PR UNTIL FURTHER NOTICE.
You will need your photo I.D. and booking number.
You will need to have the Title of the vehicle and/or Bill of Sale.
Go to Crowley Car Division to obtain the Original Bill of Lading and the Hacienda appraisal which indicates the last free date at the port.
Submit your Bill of Lading and/or your vehicle's Title and/or Bill of Sale to the Hacienda's internet platform named SURI. Through the internet they will advise how much you will need to ay on taxes.
Pay online at SURI.GOV or take your paperwork to Crowley's visitor's parking lot where someone can assist you with the process.
Once taxes are paid they will email back to you the Hacienda's released document and forms #2042 & 2015.
Finally you will go to Crowley office to receive your vehicle.
Customer is allowed seven days to pick up the vehicle upon arrival.
The vehicle owner's social security card or a copy will be required by Hacienda at time of pick up. This is a new requirement.
To avoid inconvenience, please call Customer Care at 1-800-Crowley to confirm if your cargo is ready before performing the pick up at destination.
*Rates apply on passenger vehicles not exceeding 1100 Cubic Ft (commercial vehicles excluded).
*Rates include all applicable fuel, security, port, terminal, handling surcharges, US Customs and EEI filing. An additional insurance charge, based on the current published tariff, will be added on units based on their value, unless you choose to opt out prior to shipping. For current published rate, please click here. Rate quotes subject to change based on unit size and cube.