Update #3: El Coqui Recovery Plan
We previously advised a mechanical issue had delayed the sailing of MV El Coquí (voyage SAL9057S), originally scheduled to arrive in San Juan, Puerto Rico on Monday, July 22.
During routine maintenance of the El Coqui, an electrical issue occurred. While repairs are proceeding at the berth in Jacksonville, the timeline for completion of those repairs is such that the El Coqui will not sail this coming Friday July 26th. The Coqui will resume sailing on August 2nd. We have assembled the following options to minimize the impact to our customers' supply chains, including adding our tug and barge La Reina to our operations, and securing space on other vessels serving the trade.
We expect our services to be back and fully intact starting next week, in support of your business.
SOUTHBOUND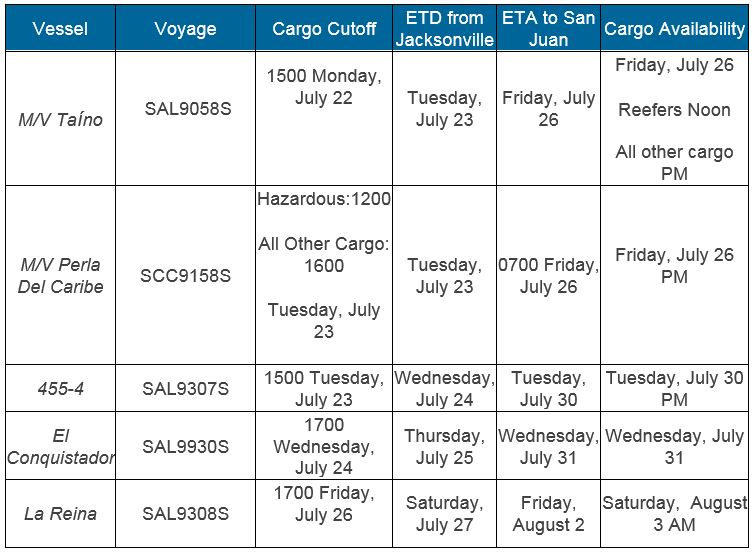 NORTHBOUND


Please note that Thursday, July 25th – Constitution Day -, is a holiday in Puerto Rico. In observance of this holiday, and considering our updated vessel itineraries, our Administrative offices, Car Division and Hacienda will be closed.
Additionally, we are monitoring the protests that continued this week in San Juan and across the island. While there are more protests scheduled, as of this notification, our operations as have not been impacted. This remains a highly fluid situation.
We will continue to provide additional updates from team as they become available