Low Sulfur Fuel Requirement Update
2014-08-27
In a continual effort to provide information regarding the implementation of the Low Sulfur Fuel Requirement as mandated to all Ocean Carriers operating within the North American and Puerto Rico & USVI Control Areas (ECA), Crowley would like to provide the following update.
As of the date of this announcement, the current regulation stipulates that on January 1, 2015, vessels that are operating within the defined ECA (see images below) will need to be compliant with utilizing fuel with a sulfur content that may not exceed 0.1% m/m (1,000 ppm). The result of this will be a gradual phase in for the new fuel that will begin in November 2014. While we anticipate that the costs associated with this initiative will translate into several million dollars of ADDED fuel expense, the direct impact is uncertain at this time.
Crowley will implement a Low Sulfur Fuel charge in November 2014 that will be applied to ALL OPEN TARIFF AND CONTRACT RATES to offset the additional costs associated with the purchase of the required fuel. We will communicate more detailed information as we get closer to the implementation and the full fuel impact is identified.
For further information and news regarding the ECA standards, the proposal to the IMO and related documents on EPA's Office of Transportation and Air Quality, please visit the web site at: www.epa.gov/otaq/oceanvessels.htm.
AREA OF THE NORTH AMERICAN ECA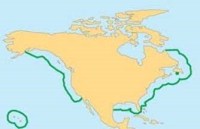 AREA OF THE U.S. CARIBBEAN ECA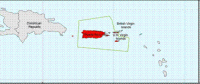 IMAGE CREDIT: UNITED STATES ENVIRONMENTAL PROTECTION AGENCY
If you have any questions please, contact your sales representative or the Customer Care Department at 1-800-276-9539.