LNG Vessels Construction Update
2015-07-09
We are pleased to report that construction of our two new LNG-powered Commitment Class ships – El Coquí and Taíno – is on schedule and the ships are taking shape nicely at the VT Halter Marine Shipyard in Mississippi.
Many steel plates are being cut for both ConRo ships and construction is proceeding at a rapid pace. Modules for El Coquí are being assembled forming the double bottoms, wing tanks, cargo holds, and bulkheads of the ship. And with only a few weeks of production underway for Taíno, her initial units are already starting to be fabricated.
Our investment in these new state-of-the-art ships is made possible by your continued support of Crowley, and is further evidence of our commitment to the trade, the island, the economy and most importantly the people of Puerto Rico.
For additional details about the ships, including artist's renderings, features, benefits and expected delivery dates, please click here.
We have included a few photos below showing the progress on these exciting new builds.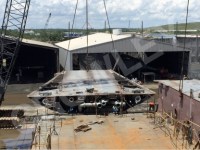 Forward double bottom section being lifted into place.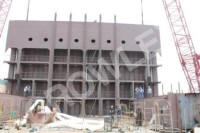 Cargo hold bulkhead being erected.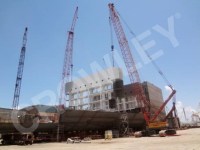 Tandem lift to erect cargo hold bulkhead.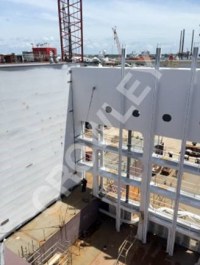 Erected cargo bulkhead being welded to wing tank and double bottom tank.