Hurricane Danny Update #1
2015-08-20
Crowley's emergency management team is currently tracking the path of Hurricane Danny. Current location of the storm is 990 miles east of Barbados and tracking West-Northwest at 12 mph. Maximum sustained winds are near 75 mph,with gusting up to 85 mph. Current satellite imagery indicates that Hurricane Danny has strengthened significantly. Winds are forecasted to be near 75 mph when the storm moves through the Leeward Islands early Monday morning. At that time, conditions in the Caribbean are expected to be more volatile. A combination of wind shear, dry air, and land interaction is expected to follow, leading to significant weakening in 5 to 7 days. At that time, forecasts have Hurricane Danny becoming a remnant low near eastern Cuba in 6 to 7 days with no expectation of regeneration. Presently, forecasters predict that there is little to no threat to the Gulf of Mexico or southeastern United States.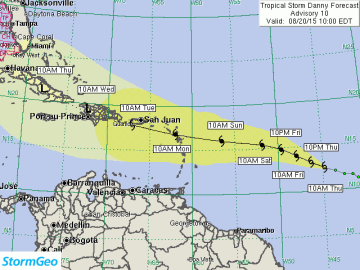 Crowley will continue to monitor the storms and distribute further weather bulletins as more information becomes available.
If you have any questions, please contact your sales representative or the Customer Service Department at 1-800-276-9539.
Please rely on Crowley for schedule changes and operational updates should there be any. Crowley sailing schedules are always available by visiting https://www.crowley.com/What-We-Do/Shipping-and-Logistics/Liner-Container-Shipping