Crowley to Launch Weekly Service Between Wilmington, NC and Central America
2017-11-02
As we continue to add flexibility to our total supply chain offerings, we will begin offering weekly, fixed-day, full and less-than-container-load (LCL) shipping and logistics services between Wilmington, N.C. and Central America. This new service will connect Guatemala and Honduras to the more northwardly U.S. Atlantic Coast destination effective with the northbound sailings from Santo Tomas on Tuesday, Nov. 21 and Puerto Cortes on Wednesday, Nov. 22.
Customers using the new lift-on/lift-off (LO/LO) service for ocean transportation will also benefit from our full offering of logistics solutions including shipment coordination, freight forwarding, import/export documentation, last-mile delivery, cargo insurance and customs brokerage services for cargo of all types and sizes. This is in addition to utilizing Crowley's full complement of 40-foot dry and refrigerated containers and specialized 45' x 102" dry containers for ocean transportation.
The new sailing schedule and port rotation, including document and cargo cutoffs is as follows: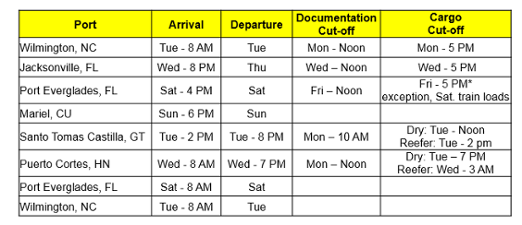 Crowley's team of professionals look forward to helping you find supply chain solutions that increase velocity while reducing landed cost. For more information, please contact our Customer Care Department at 1-800-CROWLEY or visit www.crowley.com for booking and sailing schedules.