Crowley Puerto Rico Construction Update – January 2016
2016-01-21
With the New Year underway, we are pleased to bring you this progress update on our $500 million capital investment in our Puerto Rico service.
Several key construction milestones have been reached on our two new, LNG-powered Commitment Class ConRo vessels, El Coquí and Taíno. The main engine for El Coquí was delivered to the shipyard, and installation is scheduled to begin in February. Meanwhile, Taíno's LNG tanks have been delivered to the shipyard, and her main engine has successfully completed factory testing in Japan. Both of these milestones are tracking nicely with our 2017 vessel delivery schedule.
Additionally, construction of the bulkhead for the new pier at our Isla Grande Terminal in San Juan is 75 percent completed, and dredging is slated to begin the second week of February, keeping the project on schedule.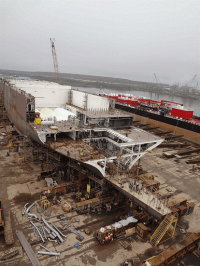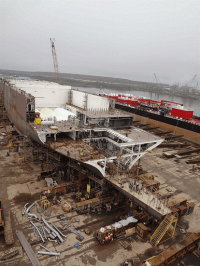 We believe these enhancements will help reposition Puerto Rico as a shipping and logistics hub for the Caribbean Basin and beyond, and we are excited for the potential opportunities you, our customers, will realize from the investments we are making.