Crowley makes enhancement to NAL Service to San Juan
The simplest, streamlined supply chain solution ensures the greatest velocity of your cargo to market. As the only logistics partner in the northeast to offer direct ocean cargo service to Puerto Rico, we are further enhancing our North Atlantic service. Effective August 29, we are moving our departure day from Wednesday to Thursday. We listened to your feedback, and determined that this change in day provides you with greater flexibility on the front end for cargo preparation, consolidation and delivery needs. This new, later departure day avoids unnecessary, additional intermodal handling, while still providing cargo availability and distribution in San Juan on Thursdays. On-shelf deliveries are available before the weekend.
To take advantage of the Thursday sailing, please note our new documentation and cargo cutoff details below: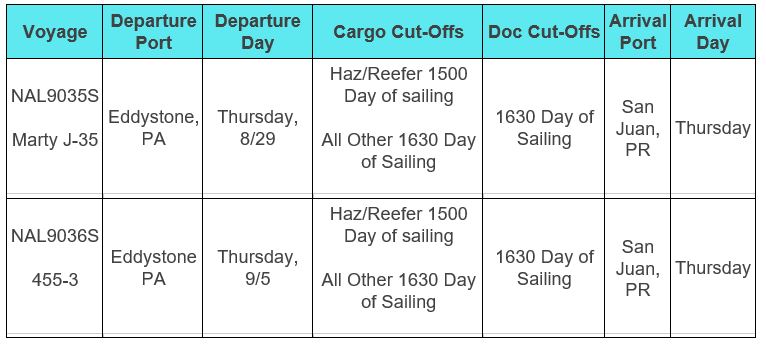 Please visit www.crowley.com for up to date sailing schedules. If you have any questions please, contact your sales representative or the Customer Care Department at 1-800-CROWLEY.