400 New Reefers Available in Santo Tomas
2016-01-07
To better serve your need to ship perishables between Central America, the Caribbean and the United States, Crowley has deployed 400 new 40-foot, high-cube refrigerated (reefer) cargo containers in Santo Tomas, Guatemala. These units are being added to Crowley's existing reefer fleet and are being positioned throughout Central America to coincide with the heavy northbound reefer season, which runs through May 2016.
The additional equipment complements our complete perishables logistics offering, which includes specialized customs brokerage services through our Customized Brokers subsidiary, and our Miami-based cold storage solution provided by CrowleyFresh. Together our package of reefer services can improve the velocity of your overall supply chain and reduce your overall landed cost.
All of the new reefers are built to Crowley's exacting structural and security standards, and are equipped with Carrier's high efficiency PrimeLINE® refrigeration units, incorporating several changes to help boost efficiency and reliability even further.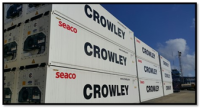 Since 2003, Crowley has invested over a quarter of a billion dollars in new cargo equipment for its liner services fleet. Today, the company operates more than 52,000 pieces of owned and leased intermodal equipment, including more than 22,015 chassis; 21,297 dry containers; and more than 3,916 refrigerated containers, all of which come in a variety of sizes and are strategically located throughout the United States, Central America and the Caribbean