Sailing Daily, Crowley Will Have Transported More Than 9,500 Cargo Loads to Puerto Rico Since Hurricane Maria by Week's End
Maintaining a 24/7 transportation and logistics pipeline of cargo moving in support of Puerto Rico's recovery from Hurricane Maria, Crowley Maritime Corp. said today that it expects to have offloaded more than 9,500 loads of commercial and government relief cargo on the island since the storm by the end of this week.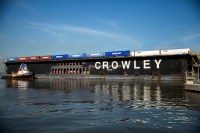 Crowley has added six U.S.-flagged flat-deck barges to its fleet – a 40 percent increase in capacity –  since the hurricane struck the island in late September, and has a sailing every day this week from the mainland to San Juan.  
Federal Emergency Management Agency (FEMA) shipments remain strong and commercial cargo shipments are increasing to more normal levels as retailers, manufacturers and other businesses slowly start to come back on line and resume operations.
"Given all that the island needs, we view all cargo – government and commercial – as vital to our recovery," said Jose "Pache" Ayala, vice president, Puerto Rico services. "We are encouraged to see commercial customers slowly beginning to get back up and running." 
More than 900 commercial loads were put on vessels in the last 72 hours, including more than 100 refrigerated containers, and all are in transit to the island. And with its additional vessel capacity, Crowley will be offering 6,200 commercial cargo slots per month in November and December.
Upon reaching Puerto Rico, relief cargo is being distributed by Crowley Logistics, which has more than 375 trucks on the island. The logistics group is also providing services such as drayage, direct deliveries, deconsolidation and inventory control, as well as providing forklift equipment and operators to expedite the handling of air freight at the airport.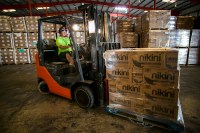 Crowley continues to work closely with FEMA in support of its mission. Having completed the transportation and logistics management of nearly 2,600 FEMA loads so far, Crowley has bookings to transport another 1,700 loads to Puerto Rico in the next several weeks – a significant effort spanning more than 40 vessel sailings.
Crowley also will have completed more than 1,200 delivery missions for FEMA by tomorrow through its on-island supply chain services. The company is supporting FEMA with regional distribution capabilities in Ceiba, Aguadilla, and the Luis Muñoz Marín International Airport in San Juan. Water, ready-to-eat meals, baby and toddler supplies and recovery operations kits continue to move in high volumes.
Crowley's Isla Grande Terminal in San Juan continues to experience unusually high volumes of cargo on the terminal, though the rate of loads being dispatched is returning to close to the normal rate of 500 per day. The increased terminal throughput has reduced the significant backlog resulting from on-island disruptions due to the hurricane, but additional volumes of commercial and relief cargo reaching Puerto Rico still leave unusually high loads awaiting dispatch.
Crowley, which has about 300 Puerto Rico employees, has served the market since 1954, longer than any other Jones Act carrier in the trade.
Jacksonville-based Crowley Holdings Inc., a holding company of the 125-year-old Crowley Maritime Corporation, is a privately held family and employee-owned company. The company provides project solutions, energy and logistics services in domestic and international markets by means of six operating lines of business: Puerto Rico/Caribbean Liner Services, Latin America Liner Services, Logistics Services, Petroleum Services, Marine Services and Technical Services. Offered within these operating lines of business are: liner container shipping, logistics, contract towing and transportation; ship assist and escort; energy support; salvage and emergency response through its 50 percent ownership in Ardent Global; vessel management; vessel construction and naval architecture through its Jensen Maritime subsidiary; government services, and petroleum and chemical transportation, distribution and sales. Additional information about Crowley, its subsidiaries and business units may be found at www.crowley.com.