Crowley Provides ATB to Deliver Jet Fuel from U.S. Mainland to Puerto Rico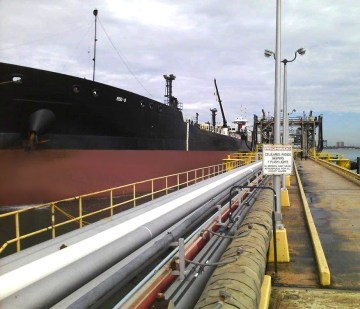 Crowley Petroleum Services is completing the delivery today of more than 177,000 barrels of Jet A-1 fuel to Puerto Rico aboard the company-owned and -operated articulated tug-barge (ATB) Innovation / 650-9. The loaded vessel departed Corpus Christi, Texas, last week and quickly transported the fuel to San Juan, where it is being safely discharged for use in commercial aircraft.
Though Crowley's ATBs aren't regularly scheduled between the U.S. mainland and Puerto Rico, the company was able to supply the Jones Act vessel as a spot charter within a short time window to support a customer's requirements. About 90 percent of the fuel consumed in Puerto Rico comes from foreign sources and is delivered on foreign vessels.
"This successful delivery is an excellent example of how Jones Act vessels can be used to support the quick and efficient transportation of cargo on an as-needed basis," explained Crowley's John Ara, vice president, chartering and sales, petroleum and chemical transportation. "We are proud to have been able to make our ATB available and to support Puerto Rico's aviation industry."
The Jones Act, also known as the Merchant Marine Act of 1920, is a federal statute that requires that all goods transported by water in U.S domestic commerce be carried on American vessels. While Crowley's petroleum and chemical transportation vessels do not regularly call upon Puerto Rico, the company's shipping and logistics group, which employs about 300 employees in Puerto Rico, has served the market since 1954, longer than any other Jones Act carrier in the trade.
An ATB has an articulated, or hinged, connection system between the tug and barge, which allows movement in one axis or plane in the critical area of fore and aft pitch. The tank vessel (the barge) is connected to a large, powerful tugboat that propels and maneuvers the vessel. Crowley operates and manages the largest U.S.-flag petroleum and chemical tank vessel fleet in the country. The operated and managed fleet consists of 37 Jones Act qualified large petroleum transportation vessels in the United States with a combined capacity of more than 10 million barrels.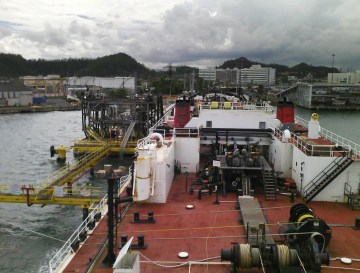 About Crowley Petroleum Services
Crowley's Jacksonville-based petroleum distribution group is one of the largest independent operators of petroleum barges and tankers in the United States specializing in bulk petroleum and chemical transportation. The company is an innovator and leader in petroleum and chemical transportation through the aggressive development of its state-of-the-art articulated tug barge (ATB) and tanker fleet which ranges in size from 20,000 DWT to 45,800 DWT. Crowley adheres to the most stringent safety and environmental protection standards while providing safe and reliable transportation services.
About Crowley Maritime
Jacksonville-based Crowley Holdings Inc., a holding company of the 125-year-old Crowley Maritime Corporation, is a privately held family and employee-owned company. The company provides marine solutions, energy and logistics services in domestic and international markets by means of six operating lines of business: Puerto Rico liner services, international liner services, logistics services, petroleum services, marine services and technical services. Offered within these operating lines of business are: liner container shipping, logistics, contract towing and transportation; ship assist and escort; energy support; salvage and emergency response through its 50 percent ownership in Ardent Global; vessel management; vessel construction and naval architecture through its Jensen Maritime subsidiary; government services, and petroleum and chemical transportation, distribution and sales. Additional information about Crowley, its subsidiaries and business units may be found at www.crowley.com.