Two Webb Institute Students Honored with Thomas B. Crowley Scholarships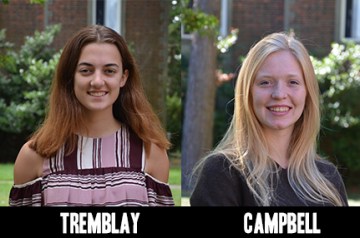 Webb Institute, a four-year college specializing in naval architecture and marine engineering, has announced that the 2018-19 academic year recipients of Crowley Maritime Corporation's Thomas B. Crowley Sr. Memorial Scholarship are Taylor Campbell (Class of 2019) and Reneé Tremblay (Class of 2020).
Webb's scholarship selection committee chose Tremblay of Bristol, R.I., and Campbell of Altoona, Pa., for their hard work, academic excellence, volunteer efforts and the superb leadership skills they actively display on and off campus.
Campbell is a very active member of the Webb community having been a member of the student organization, leadership committee and captain of Webb's first-ever women's basketball team. She has also assisted with campus events and volunteer efforts, including Engineering Day, an event devoted to stimulating interest in engineering among young children.
Tremblay has also been involved with numerous student organizations, volunteer efforts and community projects during her time at Webb, including Open House and the Summer Engineering Academy. She is co-chair of the leadership committee and student public relations chair working with Webb's communications and media relations department, where she assists in social media marketing, yearbook design and writing for Webb's annual publication, "Webb News".
"Reneé and Taylor are exemplary leaders," said Webb Institute Dean Matthew Werner. "Webb is proud to have them both as members of our student body. Their multi-faceted contributions to the community and records of achievement at Webb have made them ideal candidates for the Thomas Crowley Scholarship."
Said President R. Keith Michel, "We are most appreciative of Crowley's ongoing commitment to higher education and look forward to our continued partnership with Crowley Maritime Corporation."
To support this specialized, top-ranked institution, Crowley initiated the Thomas B. Crowley, Sr. Memorial Scholarship at Webb in 2007 and has since given tens of thousands of dollars in support of the school's students. Crowley's involvement with Webb took on added significance in 2008 when the company acquired Jensen Maritime Consultants, a leading naval architecture and marine engineering firm headquartered in Seattle. Many Webb graduates are currently employed by Crowley and Jensen in various disciplines from naval architecture and marine engineering, to vessel construction management and vessel operations.
In addition to supporting Webb through scholarships, Crowley and Jensen offer student internships and oftentimes employment opportunities after graduation. The company also provides resources in support of student leadership development. In 2007, Crowley donated $250,000 to establish the Marty Johnson '88 Leadership Fund, in honor of the late senior naval architect and 1988 Webb alumnus who tragically passed away while on salvage assignment for the company. Webb has publicly shown its appreciation to Tom Crowley, company chairman and CEO, for the support he has provided to both Webb and the maritime industry, bestowing upon him an honorary doctorate degree during their 119th commencement ceremony in 2015.
Since 1984, Crowley has provided more than $3 million dollars in scholarship funding for more than 1,000 students studying at maritime academies and other select institutions in the U.S., Puerto Rico and Central America. In 1994, Crowley Chairman and CEO Crowley Jr. established the Thomas B. Crowley Sr. Memorial Scholarship Program in honor of his father.  To learn more about the Thomas B. Crowley Sr. Memorial Scholarship program, visit www.crowley.com/scholarships.
About Crowley and Jensen
Seattle-based Jensen Maritime Consultants Inc. is a naval architecture and marine engineering firm owned by Crowley Maritime Corporation, a 126-year-old privately held company specializing in marine solutions, energy and logistics services. Jensen offers a diverse range of consulting, design and engineering services developed from more than 50 years of experience working around the world. Jensen is a recognized leader in the design of all types of vessels and has built a favorable reputation on a long history of successful designs and conversions with close attention to engineering basics. The company's services include detail and conceptual design and engineering, vessel modifications, lofting, regulatory and shipyard liaison as well as on-site consulting services and on-location assistance anywhere in the world. Additional information about Crowley and Jensen can be found at crowley.com and jensenmaritime.com, respectively.
About Webb Institute
Founded in 1889 by New York-based ship builder William H. Webb, Webb Institute is a highly selective, top-ranked undergraduate institution specializing in Naval Architecture and Marine Engineering. Building on a 129-year legacy of academic excellence, Webb is the only full-tuition scholarship, private undergraduate program of its kind in the United States, with a maximum of 28 students being accepted into the program each year. Webb Institute's beautiful, waterfront campus is located in Glen Cove, NY, on the North Shore of Long Island.
# # #