Puerto Rico Team Earns Thomas Crowley Award, the Company's Highest Honor, in Recognition of Hurricane Maria Relief Efforts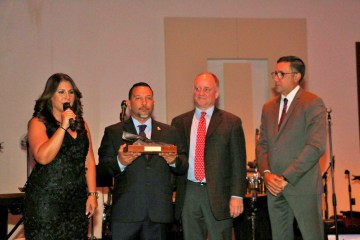 In an unprecedented gesture of appreciation, Tom Crowley, chairman and CEO of Crowley Maritime Corp., recently presented a 2017 Thomas Crowley Award – the company's highest honor – to the company's entire Puerto Rico team in recognition of their heroic efforts to resume and sustain the flow of critical cargo from the U.S. mainland to the island following Hurricane Maria.
In the aftermath of the September storm, Crowley's more than 300 union and administrative employees resumed services and reopened company facilities, including a warehouse and the Isla Grande terminal, just two days after the storm passed. Within hours of the U.S. Coast Guard reopening the harbor in San Juan, Crowley began discharging government and commercial cargo from vessels to support relief efforts on the island.
The team was also recognized for its work over the past year helping to transform the company's Isla Grande port terminal to a lift-on/lift-off operation and making it the most modern and efficient facility in the Caribbean. Employees adapted to and embraced change as they began working the new 900-foot pier, three ship-to-shore gantry cranes, expanded dry and refrigerated container facilities, truck access and egress gates, and terminal operating system, which has significantly decreased truck turn times and increased cargo velocity.  
In an emotional presentation in San Juan, Crowley said to the assembled employees, "Each of you were personally impacted by the most destructive hurricane in the island's history, yet you banded together to overcome extraordinary challenges and helped to reopen our terminal a mere 48 hours after the storm. Since then, you have continued to work tirelessly to get government relief and commercial cargoes to the island, to help people get back on their feet and begin rebuilding their homes and lives. It is with tremendous pride and appreciation that I present all of you with a 2017 Thomas Crowley Award."
"Our employees are so grateful for this recognition and are particularly emotional knowing that they received it for contributions that made a difference to their families, friends, co-workers and, above all, Puerto Rico," said Crowley's Jose "Pache" Ayala, vice president, Puerto Rico services. "Crowley has a strong culture and this honor is testament that nothing is more important than our people, who are fully committed to this trade and the well-being of our island."
Humberto Negron, a Crowley stevedore and union steward for Union de Tronquistas de Puerto Rico local 901, said: "It took union members by surprise because it is the first time this recognition has been given to a team. Crowley has always been great at recognizing an employee's hard work and it makes us feel even more honored and proud to have received this as a team."
Negron has worked as a union employee for Crowley since 1990, and he has two sons and a stepson who also work for the company.
The prestigious, annual company award is a limited-edition bronze sculpture that depicts company founder Thomas Crowley ferrying goods in a rowboat across San Francisco Bay in the early 1890s. The award serves not only as a tribute to the founder of the company, but also to those honorees who have aligned themselves closely with the company's values and display outstanding performance, dedication, leadership and initiative. Only 66 employees have received the award since the program's inception in 1985.
"This award is truly gratifying as it recognizes the unending commitment that Crowley employees showed to restore the supply chains of customers and assist with the government response, despite facing their own personal and family challenges," said Crowley's Ken Black, vice president, warehousing and logistics. "We literally were helping each other as we dedicated ourselves to aiding the people of Puerto Rico. Not only did our warehousing operations on the island re-open within two days to support Puerto Rico 24/7, our team successfully tripled our warehouse capacity and added more than 600 transportation units to improve cargo turn times and have supplies distributed with unprecedented velocity. It was truly an around-the-clock, team effort as we helped people on the island begin to recover."
Altogether, Crowley provided more than 200 sailings via U.S. Jones Act vessels after the storm, delivering more than 100,000 TEUs (twenty-foot equivalent units). The company increased vessel capacity by 67 percent to handle the surge in cargo and provided nearly 24/7 operations at the terminal and warehouses on the island. As a leading logistics provider for the Federal Emergency Management Agency (FEMA), Crowley transported and delivered more than 53,000 utility poles, 7,000 transformers and 10 million miles of cable to support power restoration on the main island of Puerto Rico and in surrounding communities, such as the island of Vieques. Additionally, more than 3,200 containers of water were delivered among other food products and supplies to aid residents.
About Crowley
Jacksonville-based Crowley Holdings Inc., a holding company of the 126-year-old Crowley Maritime Corporation, is a privately held family and employee-owned company that provides marine solutions, energy and logistics services in domestic and international markets. Crowley operates under four business units: Crowley LOGISTICS, a singular ocean liner and logistics supply chain division; Crowley SHIPPING, which encompasses ownership, operations and management of vessels, including tankers, container ships, tugboats and barges; Crowley FUELS, a fuel transportation, distribution and sales division that also provides liquefied natural gas (LNG) and related services; and Crowley SOLUTIONS, which focuses on government services, including vessel management for government agencies, as well as engineering, project management, naval architecture through its subsidiary Jensen Maritime, and marine salvage and emergency response through its 50 percent ownership in Ardent Global. Additional information about Crowley, its subsidiaries and business units may be found at www.crowley.com.