Jensen Maritime Honored for Third Consecutive Year by WorkBoat with Two 2018 Significant Boat Awards
(NEW ORLEANS; Dec. 11, 2018) – Jensen Maritime , Crowley Maritime Corp.'s Seattle-based naval architecture and marine engineering subsidiary, has been honored for the third consecutive year by WorkBoat magazine with two Significant Boat Awards. WorkBoat only issues 10 Significant Boat Awards each year. The first was given for Jensen's designs of expedition cruise boats National Geographic Quest and National Geographic Venture, owned by Lindblad Expeditions Holdings, Inc., of New York, N.Y. The second was for the company's design of ship-assist and escort tug Rosemary McAllister, owned by McAllister Towing and Transportation Co.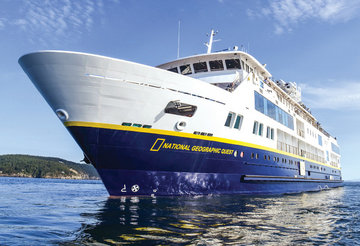 For the two 100-person expedition cruise boats, Jensen provided detailed design and production engineering services. The company also used 3D modeling allowing Lindblad Expeditions the opportunity to confirm the 238-foot vessel's layout, maintenance envelopes and operational access prior to construction. This meant that all the details of the structural, electrical, mechanical and HVAC systems of the vessel were combined into one comprehensive, full-size 3D computer model, resulting in a virtual vessel that could be inspected early in the design process for safety, maintainability and constructability. Now fully constructed, the duo is operating tours between Baja, Costa Rica and Panama during the winter months and Southeast Alaska, Oregon, Washington and Canada during the summer months. The U.S.-flag, coastal cruise ships were built at the Nichols Brothers Boat Builders (NBBB) shipyard, in Freeland, Wash.
For the Rosemary McAllister, Jensen provided detailed design services – including stability, structure and systems designs – for the ocean-going escort/rescue tugboat. The 100-foot by 40-foot escort tug is the 32nd ocean-going escort/rescue tugboat in the McAllister fleet, but is one of the first that is Tier IV, meaning it utilizes high-efficiency, catalytic after-treatment technology to reduce emissions. Powered by twin Z-drive propulsion units, the tug offers an approximate bollard pull of 90 short tons, making it suitable for offshore service, ship assist, tanker escort, maneuvering and docking. Rosemary McAllister has been Load Lined and Classed by the American Bureau of Shipping as +A1, Towing, Escort, +AMS, and FFV-1. The 12-knot, 6,770-horsepower tugboat was constructed by Eastern Shipbuilding Group, of Panama City, Fla.
"It's been exciting to watch the Jensen team receive national recognition for innovative designs by WorkBoat for three years running," said the company's Bryan Nichols, director, business development. "We are proud to not only develop significant boats, such as our new Tier IV compliant series of tugboats, but also to lead the industry with full-service, in-house naval architecture and marine engineering services that help our customers achieve their goals. We thank WorkBoat for the awards and our clients for trusting us to deliver."
Jensen's new series of Tier IV-compliant, ship-assist tugboat designs are available now in 74-, 86-, 92-, 96-, 100-, 108- and 110-foot lengths. To learn more about these designs, click here .
WorkBoat has honored Jensen with Significant Boat awards for years. Last year's awards were given for two different tugboat designs that yielded the Earl W. Redd, owned by Harley Marine Services Inc. of Seattle, and built by Diversified Marine Inc., in Portland, Ore.; and the Arkansas, Mardi Gras and South Carolina, owned by Crescent Towing and built by Steiner Shipyard, in Bayou La Batre, Ala. In 2016, WorkBoat awarded Jensen for the design of San Francisco Fireboat 3, owned by San Francisco Fire Department. Jensen was also awarded in 2013 for the design of Crowley's 750 class articulated tug-barge (ATB) fleet and the Bob Franco tugboat, owned by Harley Marine; in 2012 for the design of Crowley's ocean class tugboats; in 2009 for the design of Crowley's Nachik and Sesok tugboats; and in 2008 for the design of the HandyOne class boat, owned by Great Lakes Towing, and for the design of barge TAGGATZ, owned by the U.S. Army Corps of Engineers.
About Jensen Maritime 
Seattle-based Jensen Maritime Consultants, Inc., is a naval architecture and marine engineering firm owned by Crowley Maritime Corporation. The company offers a diverse range of consulting, design and engineering services developed from 57 years of experience working around the world. Jensen is a recognized leader in the design of all types of vessels – particularly workboats, fishing boats and fireboats – and has built a favorable reputation on a long history of successful designs and conversions with close attention to engineering basics. The company's services include detail and conceptual design and engineering, lofting, regulatory and shipyard liaison as well as on-site consulting services and on-location assistance anywhere in the world. For additional information about Jensen, visit www.jensenmaritime.com .
About Crowley Maritime
Jacksonville-based Crowley Holdings Inc., a holding company of the 126-year-old Crowley Maritime Corporation, is a privately held family and employee-owned company that provides marine solutions, energy and logistics services in domestic and international markets. Crowley operates under four business units: Crowley Logistics, a singular ocean liner and logistics supply chain division; Crowley Shipping, which encompasses ownership, operations and management of vessels, including tankers, container, dual fuel (LNG) and multipurpose ships, tugboats and barges; Crowley Fuels, a fuel transportation, distribution and sales division that also provides liquefied natural gas (LNG) and related services; and Crowley Solutions, which focuses on government services, including vessel management for government agencies, as well as engineering, project management, naval architecture through its subsidiary Jensen Maritime, and marine salvage and emergency response through its 50 percent ownership in Ardent Global. Additional information about Crowley, its subsidiaries and business units may be found at www.crowley.com .
# # #