Goss and Martus Honored with 2016 Thomas Crowley Awards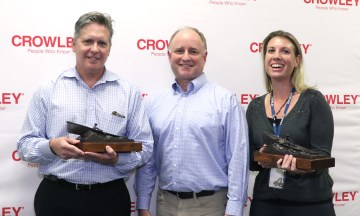 Crowley Maritime Corporation's Zoe Goss, director, marine recruiting and development, and Ray Martus, vice president, vessel construction management, have been honored with 2016 Thomas Crowley Awards, the company's highest honor for its employees. A video featuring the recipients is available here.
Goss and Martus each received a limited-edition bronze sculpture that depicts company founder Thomas Crowley ferrying goods in a row boat across San Francisco Bay in the early 1890s. The award serves not only as a tribute to the founder of the company, but also to those honorees who have aligned themselves closely with the company's values displaying outstanding performance, dedication, leadership and initiative. Only 66 employees have received the award since the program's inception in 1985.
Chairman and CEO Tom Crowley Jr., grandson of the founder, noted the outstanding contributions by Goss and Martus at a ceremony at the company's corporate office in Jacksonville, where Goss and Martus are based.
"This award is special to me because it represents the hard work that my family, and all the employees who have contributed over the years to make this company a special place," Crowley said. "The hardest thing is picking out only two people a year from so many worthy people that play a part in this. At Crowley, we empower every employee to be a leader. Both Zoe and Ray epitomize the leadership and values that we all want to see in ourselves every day."
Goss, a commander in the U.S. Navy Reserve, was lauded for her achievements ensuring the company's mariners have the training and skills they need to be high performers. In addition to helping lead efforts to reduce gaps in training to improve opportunities for veterans seeking maritime careers, she was also credited for her work to help with the re-establishment of the U.S. Merchant Marine Academy's year-at-sea program after its temporary suspension resulting from alleged cases of sexual harassment. She testified to Congress and other agencies to explain the importance of the year-at-sea program, and explain Crowley's best practices in harassment prevention. Goss also serves as the project executive for the Ship Operations Cooperative Program (SOCP) Sexual Assault Sexual Harassment (SASH) project. This project is a cooperative agreement funded by MARAD to develop multiple prevention tools for the U.S. Merchant Marine and maritime industry.
"It's amazing what she gets accomplished, and she carries those responsibilities on to give back to this country," said Crowley. "The work she did in front of Congress for the year-at-sea program was instrumental in showing the government that industry does things right, and that cadets have a lot to learn from what we can provide."
Goss has a bachelor's degree in marine transportation from Massachusetts Maritime Academy, where she earned an unlimited Third Mate's license. She has a master's degree in national security and strategic studies from the U.S. Naval War College in Newport, R.I. Goss sailed for 6 years on various U.S. flag ships and served as captain of passenger vessels. She also served in the federal government in Washington, D.C., for the U.S. Maritime Administration, overseeing contracts, and U.S. Coast Guard, representing the U.S. interests in mariner training standards with the International Maritime Organization. Goss joined Crowley in 2013 as manager of regulatory training in the marine development and compliance department. In 2014, she was promoted to director, marine development, and then in 2017 to director, marine recruiting and development.
"The award is truly an honor, and it represents the energy and dedication of our recruiting and training team. They inspire us all to help our mariners be high performers, who carry out their jobs with integrity," said Goss. "Working every day with integrity is crucial to being a productive company, and Crowley empowers us to do that across our business units."
Ray Martus was recognized for his tireless leadership of the ongoing construction of Crowley's two Commitment Class, combination container/roll on-roll off (ConRo) ships that will be among the first in the world powered by liquefied natural gas (LNG). Martus oversees a team of experts guiding the entire construction process, including serving at the shipyard to effectively build the vessels for the U.S. mainland-Puerto Rico trade. He also was credited with managing a team that not only oversees the build-out of Crowley ships, but also those of third-party companies who are having vessels constructed or repaired in shipyards. Martus joined Crowley in 2008 as director of new construction, and has since worked on numerous vessel construction projects, including, tugs, deck barges, articulated tug barges (ATB), tankers and most recently the new ConRo vessels for Puerto Rico. 
"Ray's expertise and approach balance industry skill with strong, effective management – whether it is our ships or our customers'. He has leveraged Crowley's expertise to meet a diverse range of customer needs, accomplishing innovative projects. His good relationship with the shipyard has been crucial as we near completion of the ConRo ships' construction project, and he exhibits a dedication to quality on every project," said Crowley.
Martus has a bachelor's degree in marine engineering from the U.S. Merchant Marine Academy at Kings Point, N.Y., with a license as Third Assistant Engineer, and a master's degree in business administration from the University of Florida. He sailed for 12 years with various companies, including Crowley, and on U.S. flag steam and diesel ships as an engineer, ultimately obtaining his Chief Engineer unlimited license. 
"This award is humbling and an honor. Our team works hard to provide expertise and value to lead diverse projects to help make sure every detail is built correctly, safely and ready to operate at a high level of safety, integrity and high performance," said Martus. "Our ability to provide solutions is only achieved by working as a team."