Crowley Rolls Out First Freight Under $2.3 Billion DFTS Contract
Crowley Logistics has successfully executed the first cargo move under its new $2.3 billion Defense Freight Transportation Services (DFTS) contract, one of the U.S. Department of Defense's (DoD) largest transportation services contracts.  
The military cargo was transported Monday by truck from the U.S. Tobyhanna Army Depot in Pennsylvania, which provides logistics support for the communications sector to defense personnel with services such as fabrication and manufacturing, overhaul and repair, engineering design and development, systems integration, and global field support.
"This initial DFTS move is a culmination of years of careful and strategic preparation combined with a lot of diligent work on the part of our logistics team and technology partner 3Gtms," said Tom Crowley, company chairman and CEO. "We are pleased to get underway – leveraging our dependable commercial expertise and capabilities for U.S. Transportation Command (TRANSCOM) and other government customers."
"Our commitment is to exceed DFTS' expectations across the service spectrum by capitalizing on Crowley's unique ability to provide a full suite of logistics services that reduce landed costs and increase supply chain velocity for customers," said Frank Larkin, Crowley senior vice president and general manager, logistics and commercial services.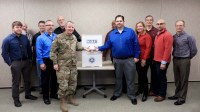 The contract, which is for two years followed by five option years, was formally awarded by TRANSCOM to Crowley last year. It calls for Crowley to move various types of cargo from thousands of suppliers through 41 major depots around the continental U.S., including Alaska, and Canada. The program encompasses all forms of truck transportation, including less- than truckload, full truckload, expedited and refrigerated services. Crowley will also move freight via air when required.  
Delivery locations include vendor facilities, DoD distribution centers, and U.S. military installations. Under the contract, Crowley is providing services to select Defense Department agencies, with the expectation that other DoD customers and agencies outside the department could join.
"We have put together a team of experts, including retired military, transportation and technology leaders, who understand the unique requirements of DFTS to provide a differentiated customer experience, state-of-the-art technology solution and create value for DoD," said Crowley's Bob Weist, vice president, North America transportation. 
To maximize efficiency, Crowley has partnered with technology company 3Gtms to use its transportation management system (TMS) to enhance DFTS services as well as Crowley's inland transportation services for commercial companies. The 3Gtms system enhances the management of all aspects of the transportation of goods, including planning and decision-making; transportation execution; transport follow up, measurement and reporting.
Crowley has implemented 3Gtms on Amazon AWS cloud to ensure redundancy of infrastructure. Crowley has also partnered with Tranztec Solutions to leverage its patented VIA® Platform and VIA Mobile® app. The VIA® platform provides single source visibility across multiple TMS platforms enabling tendering, real-time track and trace, auto-arrive/depart geo-fencing, and Proof of Delivery (POD) capture services for carriers along with unified carrier and customer facing management portals. 
Jacksonville-based Crowley Holdings Inc., a holding company of the 126-year-old Crowley Maritime Corporation, is a privately held family and employee-owned company that provides marine solutions, energy and logistics services in domestic and international markets. Six operating lines of business provide logistics and supply chain management, including liner container shipping; government services; contract marine towing and transportation; ship assist and tanker escort; offshore engineering and upstream project support; deep sea petroleum and chemical transportation; liquefied natural gas (LNG) transportation, distribution, engineering and consulting services; Alaska fuel sales and distribution; vessel management; vessel construction and naval architecture through its Jensen Maritime subsidiary, and salvage and emergency response through its 50 percent ownership in Ardent Global. Additional information about Crowley, its subsidiaries and business units may be found at www.crowley.com.