Crowley Promotes Tiffanny King and Jeannie Stewart to Vice Presidents, People Services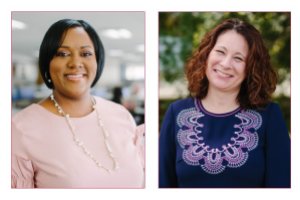 Crowley Maritime Corp. announced today the promotion of Tiffanny King and Jeannie Stewart to the positions of vice president of People Services. While each has different areas of focus, both will ultimately support Crowley's mission of ensuring high-performance and employee development across the company. King and Stewart report to Carl Fox, senior vice president, corporate services, in Jacksonville, where all are based.
In her new position, King (shown left) has responsibility for human resources, compensation and employee health and wellbeing. Stewart (shown right) oversees people and organizational development, talent acquisition and travel.
"The People Services group, now co-led by Tiffanny and Jeannie, ensures that all employees have the opportunity to work in a team environment focused on results, while leveraging our culture to continue being an employer of choice in all our markets," said Fox. "Tiffanny and Jeannie have demonstrated Crowley's core values – safety, integrity and high performance – which are designed help employees exceed goals and build value among customers. Their promotions are much-deserved and provide our company and teams with elite leadership to help Crowley's people reach their full potential."
King, who had served as director of human resources since 2016 until now, joined Crowley in 2007 as a corporate recruiter. Her career then progressed through the human-resources roles of generalist, manager and regional manager. In 2017, Crowley designated King as the company's Equal Employment Opportunity (EEO) coordinator. King earned a bachelor's degree in business administration from the University of North Florida in 2001 and a master's degree in human resource management from Webster University in 2006. She holds a Professional in Human Resources (PHR) certificate, issued by the Human Resources Certification Institute, as well as a Certified Professional (SHRM-CP) designation by the Human Resource Certification Institute. She previously served on the Board of Development Committee for the Girl Scouts of America and has volunteered her time as a local Girl Scouts troop leader and to other community causes.
Stewart, who previously served as senior director, talent acquisition, travel and office services, began her career at Crowley in 2005 as manager, corporate travel and meetings. Her career progressed through a series of director-level positions of increasing responsibility. She is a 2015 recipient of the Thomas Crowley Award, the highest honor for company employees. Stewart earned her bachelor's degree in history from Missouri State University and her master's degree in hospitality management from Florida International University. Stewart has held various leadership positions within the Global Business Travel Association (GBTA) and has earned GBTA's Global Leadership Professional® (GLP) designation. Stewart has also earned the Certificate of Professional Development in Leadership from the Wharton School of Business, at the University of Pennsylvania, and has earned the Certified Diversity Professional (CDP) designation from the National Diversity Council.
King and Stewart replace Susan "Suz" Michel, who is transitioning to a consultative position after serving Crowley for 15 years in a variety of leadership roles.
About Crowley
Jacksonville-based Crowley Holdings Inc., a holding company of the 127-year-old Crowley Maritime Corporation, is a privately held family and employee-owned company that provides marine solutions, energy and logistics services in domestic and international markets. Crowley operates under four business units: Crowley Logistics, a singular ocean liner and logistics supply chain division; Crowley Shipping, which encompasses ownership, operations and management of conventional and dual fuel (LNG) vessels, including tankers, container ships, multipurpose, tugboats and barges; Crowley Fuels, a fuel transportation, distribution and sales division that also provides liquefied natural gas (LNG) and related services; and Crowley Solutions, which focuses on government services, including vessel management for government agencies, as well as engineering, project management, naval architecture through its subsidiary Jensen Maritime, and marine salvage and emergency response through its 50 percent ownership in Ardent Global. Additional information about Crowley, its subsidiaries and business units may be found at www.crowley.com.