Crowley Presents Scholarships to Three University of Alaska Fairbanks Students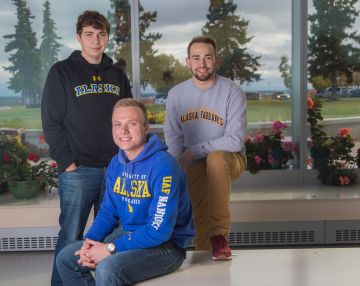 Crowley Fuels announced today that it has awarded $7,500 in Thomas B. Crowley Sr. Memorial Scholarships to three University of Alaska Fairbanks (UAF) students: Keenan Sanderson, Tibor Dorsaz and Jonathan Napier. Chosen for their academic achievements and meeting other scholarship criteria, each student received $2,500 toward his tuition from Crowley.
Crowley's financial support is administered by the UAF College of Fisheries and Ocean Sciences and can be used towards any area of study.
"Crowley is proud to contribute to the academic success of these highly-motivated UAF students," said Crowley's Jasper Hall, vice president, highway petroleum distribution. "Established in 2010, this program continues to support students who are committed to pursuing higher education to help their communities and Alaska. Each of these recipients is passionate about maintaining our state's natural resources, an endeavor that Crowley is pleased to support."
Sanderson, from Ketchikan, is a senior pursuing a fisheries and ocean sciences degree, and is considering earning a master's degree and a doctoral degree in a related field. He is a current member of UAF American Fisheries Society, UAF Wildlife Society, League of Extraordinary Fandoms and intramural basketball.  He has interned at the Fish Oceanography Lab and works at the Southeast Regional Aquaculture Association. He's conducting his own undergraduate research about juvenile salmon development, which could have significant impacts on Pacific salmon management in the state of Alaska.
Dorsaz, from Switzerland, is a junior majoring in fisheries and ocean sciences with a minor in biological sciences. He came to Alaska after joining American Field Service's study abroad program to help him improve his English. He won the Dean's Choice Awards for Undergraduate Research and Scholarly Activity after working with fellow undergrads to develop a prototype for calculating the whitefish's metabolic rate to measure the amount of oxygen used during a certain time period. He plans to graduate early and will join the Swiss military where he hopes to be accepted into the special forces, or the equivalent of the U.S. Coast Guard.
Napier, from Oregon is a senior pursuing a degree in fisheries and ocean science with a minor in biological sciences. He currently works in the fisheries lab. After graduation, he will pursue his master's degree in fisheries science and hopes to conduct research on the effects of oil and gas exploration on Alaska's Arctic coast.
Since 1984, Crowley has provided scholarship funding for more than 1,000 students studying at maritime academies and other select institutions in the U.S., Alaska, Puerto Rico and Central America. In 1994, Crowley Chairman, President and CEO, Tom Crowley Jr., established the Thomas B. Crowley Sr. Memorial Scholarship Program, in honor of his father, and has also donated more than $3 million over the years to support other educational programs. In 2006, the program expanded to Central America and to date has provided financial assistance to more approximately 20 students in that region.
To learn more about the Thomas B. Crowley Sr. Memorial Scholarship program, visit www.crowley.com/scholarships. 
Crowley in Alaska
Crowley Fuels is a leader in Alaska's fuel industry, providing transportation, distribution and sales of petroleum products to more than 280 communities across the state. The company also provides liquefied natural gas (LNG) sales, distribution and engineering services in the Caribbean Basin and in Alaska, a fledgling market. Other Crowley business units in Alaska support the energy industry with summer sealifts of large production modules to the North Slope, offshore engineering, and various marine transportation services. Subsidiary Crowley Alaska Tankers LLC provides transportation of North Slope crude from Valdez to the U.S. West Coast.  
To learn more about Crowley Fuels, please visit: www.crowleyfuels.com.
#     #     #