Crowley Names Parker Harrison to Leadership Team as Senior Vice President, Procurement and Risk Management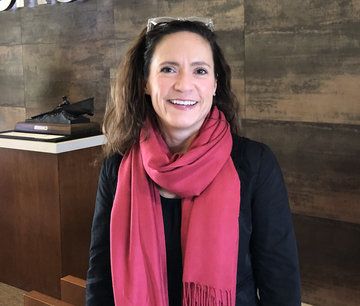 Crowley Maritime Corporation announced today that Parker Harrison has been appointed to the company's leadership team as Senior Vice President of Procurement and Risk Management, effective Jan. 1. Harrison, former Vice President of Procurement, will continue to be based at the company's headquarters in Jacksonville, and will now report to Bill Pennella, Vice Chairman and Executive Vice President.
As Senior Vice President of Procurement and Risk Management, Harrison will work closely across all of Crowley's business units to strategically align risk management functions while continuing the company's procurement transformation into a strategic center-led competency. She will be responsible for the company's global insurance program; management of Beacon Insurance Company, Ltd; supporting the risk management and insurance requirements of Crowley's business lines; allocation of insurance cost and administration/management of the claim, insurance and contract review/approval processes while also overseeing all procurement for the corporation.
"Parker has continually demonstrated her ability to enhance Crowley's focus on strategic sourcing and contracting while gaining traction in consortia purchase opportunities," said Tom Crowley, Chairman and CEO. "Her customer-focused, high-energy approach to our enterprise-wide procurement control processes along with her legal background, make her well suited to serve in this expanded role."
Harrison joined Crowley in 2013 from Shipowners Claims Bureau in New York where she gained relevant marine insurance experience and managed employees across four offices worldwide. While at Crowley, Harrison has supported the company's growing ship management business with claims management and led the risk management and mitigation for the Ebola relief project (Operation United Assistance) as well as the Accord Ship Management acquisition. Harrison received a Juris Doctor degree, magna cum laude, from Tulane Law School with a certificate in Maritime Law. She is President of the U.S. Chapter of WISTA, the Women's International Shipping & Trading Association, as well as a proctor member of the Maritime Law Association of the United States and the editor-in-chief of the Southeastern Admiralty Law Institute.