Crowley Honored for Environmentally Safe Vessel Operations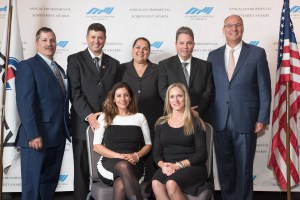 The Chamber of Shipping of America (CSA) has honored Crowley Maritime Corporation's commitment to environmentally safe operations by presenting 117 Crowley-owned or operated vessels with Environmental Achievement Awards.
The awards recognize vessels and crews for achieving records free of incidents for environmental excellence. To be eligible for the award, a vessel must have at least a two-year period without reportable spills, U.S. Coast Guard or port states citations for environmental violations, and no state or local pollution violations.
Crowley's honored vessels include articulated tug-barges, tankers, container ships, ship assist and offshore tugs, and more. With 1,288 years of combined incident-free operations, the honorees include 50 vessels that have surpassed a decade or more without an environmental incident.
"Crowley congratulates the crews and shoreside personnel whose hard work and dedication made these strong records of environmentally safe operations a reality. Our commitment to respecting and protecting our oceans and inland waterways is a crucial part of our safe and reliable operations," said Capt. Boren Chambers, director, marine operations, Crowley Shipping.
Pictured: Back row (left to right): Captain Stephen Foster (Sunshine State); Captain Christopher Menezes (Garden State); Kelly Baughman, manager, environment, Crowley Shipping; Captain Kevin Griffith (Empire State), Chambers. Front row (left to right): Christina Menezes, Natalie Griffith.
Crowley's honored vessels are listed by business group and continuous years without an incident:
| | |
| --- | --- |
| Crowley Fuels LLC | |
| MV Aku | 19 |
| MV Avik | 6 |
| | |
| Crowley Global Ship Management | |
| American Endurance | 2 |
| American Freedom | 2 |
| MT Empire State | 9 |
| MT Evergreen State | 8 |
| MT Golden State | 9 |
| MV National Glory | 11 |
| Ocean Crescent | 4 |
| Ocean Freedom | 7 |
| Ocean Grand | 4 |
| MT Pelican State | 9 |
| MT Sunshine State | 9 |
| MT Bay State | 2 |
| MT Lone Star State | 3 |
| MT Magnolia State | 3 |
| | |
| Crowley Petroleum Services | |
| | |
| ATB Achievement/650-8 | 9 |
| ATB Coastal Reliance/550-4 | 6 |
| ATB Commitment/650-6 | 5 |
| ATB Courage/650-5 | 11 |
| ATB Gulf Reliance/650-2 | 12 |
| ATB Innovation/650-9 | 6 |
| ATB Integrity/650-4 | 11 |
| ATB Legacy/750-1 | 8 |
| ATB Legend/750-2 | 7 |
| ATB Liberty/750-3 | 6 |
| ATB Ocean Reliance/550-3 | 11 |
| ATB Pacific Reliance/650-1 | 13 |
| ATB Pride/650-7 | 6 |
| ATB Resolve/650-3 | 11 |
| ATB Sea Reliance/550-1 | 17 |
| ATB Sound Reliance/550-2 | 17 |
| ATB Vision/650-10 | 5 |
| MT Florida | 6 |
| MT Louisiana | 3 |
| MT Ohio | 3 |
| MT Pennsylvania | 7 |
| MT Texas | 4 |
| MT West Virginia | 3 |
| Crowley Government Services | |
| Cape Washington | 4 |
| Cape Wrath | 2 |
| SS Curtiss | 20 |
| SS Wright | 14 |
| USNS 1st LT Baldomero Lopez | 2 |
| USNS 2ND LT John P. Bobo | 2 |
| USNS Able | 2 |
| USNS Effective | 4 |
| USNS Howard O. Lorenzen | 3 |
| USNS Impeccable | 4 |
| USNS Invincible | 4 |
| USNS LCPL Roy M. Wheat | 2 |
| USNS Loyal | 4 |
| USNS MAJ Stephen W. Pless | 2 |
| USNS PFC Dewayne T. Williams | 2 |
| USNS PFC Eugene A. Obregon | 2 |
| USNS SGT William R. Button | 3 |
| USNS Victorious | 4 |
| | |
| Crowley Marine Services | |
| MV Gus E | 20 |
| MV Admiral | 7 |
| MV Belaya Kuropatka | 4 |
| MV Chief | 20 |
| MV Goliah | 12 |
| MV Guard | 14 |
| MV Guardian | 19 |
| MV Guide | 20 |
| MV Hunter | 6 |
| MV Kavik River | 49 |
| MV Kuparuk River | 49 |
| MV Leader | 8 |
| MV Master | 21 |
| MV Nachik | 10 |
| MV Navigator | 5 |
| MV Ocean Sky | 6 |
| MV Ocean Sun | 6 |
| MV Ocean Wave | 7 |
| MV Ocean Wind | 6 |
| MV Protector | 8 |
| MV Pt. Thompson | 22 |
| MV Response | 5 |
| MV Sag River | 44 |
| MV Scout | 20 |
| MV Sea Prince | 15 |
| MV Sesok | 10 |
| MV Tioga | 21 |
| MV Toolik River | 19 |
| MV Valor | 12 |
| MV Veteran | 19 |
| MV Vigilant | 19 |
| MV Roger G | 20 |
| Tug Sea Voyager | 5 |
| Tug Stalwart | 6 |
| Tug Tan'erliq | 20 |
| Tug Alert | 19 |
| Tug Attentive | 6 |
| Tug Aware | 9 |
| Tug Bulwark | 19 |
| Tug Endurance | 4 |
| Tug Guardsman | 11 |
| Tug Nanuq | 20 |
| Valdez Star | 28 |
| | |
| Crowley Puerto Rico Services | |
| MV Defender | 19 |
| MV Ensign | 19 |
| MV Explorer | 19 |
| MV Monitor | 19 |
| MV Patriarch | 19 |
| MV Sentinel | 6 |
| MV Sentry | 19 |
| Tug Adventurer | 6 |
| Tug Ranger | 19 |
| Tug Warrior | 3 |
| | |
| Marine Transport Management | |
| MV Charleston Express | 21 |
| Horizon Enterprise | 4 |
| Horizon Reliance | 4 |
| MV Philadelphia Express | 21 |
| MV St, Louis Express | 21 |
| MV Washington Express | 7 |
| MV Yorktown Express | 18 |