Crowley Honored Among Healthiest Companies in America for Sixth Straight Year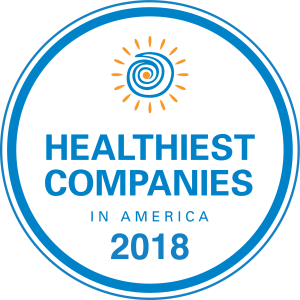 For the sixth consecutive year, Crowley Maritime Corp. has been named one of the Healthiest Companies in America by Interactive Health, a national organization whose workplace wellness program helps businesses invest in the health of their employees.
To be recognized for 2018, companies must have reached or exceeded a 70 percent participation rate in their organization's wellness program, and their workforce's overall health risk had to be labeled as low, based on the results of annual health evaluations.
More than 1,700 Crowley employees and spouses participated in the company's Live Well health evaluation and wellness program in 2018, representing about 84 percent of eligible participants. Employees continued to improve their health and wellness. Results include:
74 percent of members scored in the low risk range in 2017, and remained low risk in 2018;
14 percent of members who scored in the moderate risk range in 2017 remained or improved in that range in 2018;
12 percent of members with a health score in the high-risk range in 2017 improved in 2018.
"Crowley employees continue to embrace wellness programs, resources and activities to lead healthy lives. Our company has made it a priority to support these programs, because Crowley knows our high-performing company can only remain that way by supporting the health and welfare of our employees and families in the workplace and at home," said Tiffanny King, vice president, human resources and total rewards, in Crowley's People Services group. "These results continue to demonstrate how Crowley's commitment helps make lives better."
Each year, Crowley provides employees on-site health evaluations and risk assessment, as well as an array of wellness and health tools and opportunities, including: flu shots, health coaching programs, weight management tools, emotional well-being education and gym reimbursement programs.
As part of its wellness program, Crowley has supported regular weekly group fitness activities, such as running and walking groups, bike riding events and community sports opportunities, including soccer, flag football, softball and tennis. The company also maintains a website to promote company-wide wellness activities, including health and nutritional challenges.
Crowley is among 151 companies nationally that received the honor for employee wellness participation and health improvements.
"The best employers, like Crowley, figure out a way to differentiate themselves and show employees that they care," said Interactive Health President and CEO Bill Goldberg. "Investing in the health of your employees not only achieves that but has far-reaching implications across the organization. A healthier workforce is one that is happier, more engaged and more productive."