Crowley Completes Fuel Distribution Support Mission in Puerto Rico following Hurricane Maria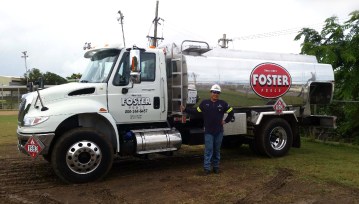 Crowley Fuels LLC, the Alaska-based petroleum transportation, distribution and sales unit of Crowley Maritime Corporation, announced today the completion of a three-month mission in Puerto Rico in support of Foster Fuels, a Brookneal, Va., based emergency response fuel supply contractor for the Defense Logistics Agency (DLA).
Initially, in early October, Crowley supported Foster's mobilization, shipping more than 130 fuel trucks aboard a Crowley liner services vessel from Jacksonville to San Juan, with multiple follow-up deliveries in subsequent sailings providing additional materiel and resources. 
Additionally, due to the overwhelming demand for CDL/HAZMAT-certified fuel truck drivers throughout areas affected by this summer's active hurricane season, Crowley further supported Foster's Puerto Rico mission, dispatching six of its own qualified fuel truck drivers from Alaska to the island. 
"The safe and successful delivery of fuel trucks and drivers demonstrates the effectiveness of Crowley's businesses and people when they are combined for a project with stakes as high as this one," said Sean Thomas, vice president, Crowley Fuels. "The efforts of the entire Crowley team: drivers, mariners and scores of others in support, have been instrumental in returning critical services and infrastructure in Puerto Rico to operational status. We commend their non-stop efforts, which took place under difficult circumstances."
The Crowley Fuels employees dispatched to the island include Luann Blodgett, Fred Parish, Tom Martin, Herman Reich, Brandon "Billy" Hills and Tim Michaels (pictured). These six workers, who are represented by the U.S. Steel Workers Union, performed a combined total of 2,200 hours distributing fuel to businesses and residents on the island, and are expected to arrive home in Alaska today.
Since Hurricane Maria struck, Crowley has transported 15,066 commercial loads and 6,077 loads for the Federal Emergency Management Agency (FEMA), providing rebuilding supplies, water, food, generators and heavy equipment to help to aid people affected by the storm. Currently, the company is providing shipments that will transport up to 65,000 power poles to Puerto Rico to help restore the island's power grid.
To speed the flow of cargo from the mainland, Crowley has expanded its vessel fleet with seven flat-deck barges to raise capacity by 67 percent, which has allowed the company to have a vessel call in San Juan almost every day since the storm.
The logistics team continues its support of the FEMA as well with supply chain management, long-distance and local trucking, deconsolidation, cross-docking and warehousing services on the mainland and on the island.
Crowley, which has 300 employees in Puerto Rico, has served the island since 1954, longer than any U.S. Jones Act carrier in the trade.
About Crowley Fuels
Crowley is a leader in the Alaska fuel industry, providing transportation, distribution and sales of petroleum products to more than 280 communities across Alaska. Since 2011, Crowley has made substantial investments in new equipment – including tractors, local delivery trucks and tank trailers – that have helped to achieve higher dependability, productivity and safety – key factors for the company being awarded the "Alaska Safe Truck Fleet of the Year" four out of the last five years. Additionally, Crowley's fleet of double-hulled marine vessels sets the standard for safety and environmental stewardship in Alaska. To learn more about Crowley's petroleum distribution business in Alaska, visit www.crowleyfuels.com.
About Crowley
Jacksonville-based Crowley Holdings Inc., a holding company of the 125-year-old Crowley Maritime Corporation, is a privately held family and employee-owned company that provides marine solutions, energy and logistics services in domestic and international markets. Six operating lines of business provide logistics and supply chain management, including liner container shipping; government services; contract marine towing and transportation; ship assist and tanker escort; offshore engineering and upstream project support; deep sea petroleum and chemical transportation; liquefied natural gas (LNG) transportation, distribution, engineering and consulting services; Alaska fuel sales and distribution; vessel management; vessel construction and naval architecture through its Jensen Maritime subsidiary, and salvage and emergency response through its 50 percent ownership in Ardent Global. Additional information about Crowley, its subsidiaries and business units may be found at www.crowley.com.