Crowley Carries Bridge Sections and Oversized Drill to Puerto Rico in Support of Roadway Reconstruction
Crowley Maritime Corporation's logistics group is transporting multiple bridges in sections to Puerto Rico to support the roadway reconstruction efforts in the Utuado region. This project is essential to restoring access to Rio Abajo, a remote community in the mountains, following damage to the bridge caused last September by Hurricane Maria. Each bridge comes in sections which are shipped in 16 to 18 containers and on several flatbeds. The company also carried the oversized IMT AF-160 drill, a 119,000-pound piece of equipment essential to setting the foundation for the bridges.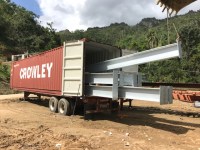 This breakbulk shipment and accompanying containers and flatbeds marks the latest in a multitude of response shipments carried out by Crowley since the storm hit.  The company has provided a constant transportation and logistics pipeline of both commercial and government relief cargo that has included 7,900 Federal Emergency Management Agency (FEMA) and 32,000 commercial loads since the storm.
"The people of Puerto Rico are steadily rebuilding their infrastructure, including work to repair or replace temporary roads and bridges," said Frank Larkin, senior vice president and general manager, logistics and commercial services.  "As a full supply chain services provider, we can flex our offerings to accommodate their changing needs from containerized relief cargo to oversized, breakbulk shipments utilizing multiple transportation modes and meeting all permit requirements."
"We continue to work with our customers in Puerto Rico and on the mainland including FEMA, and in this case the Department of Transportation, to provide them with reliable services to meet the recovery needs of Puerto Rico's businesses and residents," said John Hourihan, senior vice president and general manager, Puerto Rico services. "We've increased vessel capacity by 67 percent, onboarded additional containers and equipment and have a staff that remains dedicated to the needs of the island."
Crowley, which has about 300 Puerto Rico employees, has served the market since 1954, longer than any other Jones Act carrier in the trade.
Jacksonville-based Crowley Holdings Inc., a holding company of the 126-year-old Crowley Maritime Corporation, is a privately held family and employee-owned company that provides marine solutions, energy and logistics services in domestic and international markets. Six operating lines of business provide logistics and supply chain management, including liner container shipping; government services; contract marine towing and transportation; ship assist and tanker escort; offshore engineering and upstream project support; deep sea petroleum and chemical transportation; liquefied natural gas (LNG) transportation, distribution, engineering and consulting services; Alaska fuel sales and distribution; vessel management; vessel construction and naval architecture through its Jensen Maritime subsidiary, and salvage and emergency response through its 50 percent ownership in Ardent Global. Additional information about Crowley, its subsidiaries and business units may be found at www.crowley.com.